Earth Hour 2023 is a special global event. It is held annually to raise awareness about the importance of protecting our planet. The event is a timely reminder of the need to take action on climate change.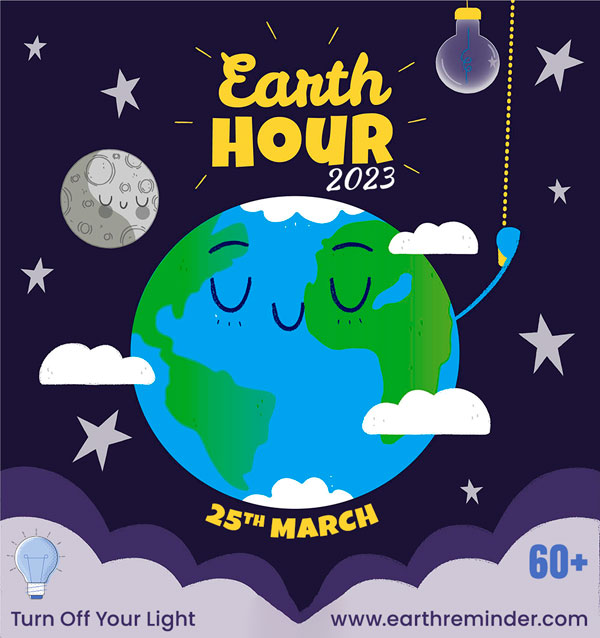 On this day, people are encouraged to switch off all non-essential lights and electronic devices for one hour to save energy and overall reducing greenhouse gas emissions.
The point of Earth Hour is not just to save energy for one hour; it's also a symbolic global event that shows we can all make a difference in the fight against climate change. If we all work together, even small changes can make a big difference!
You can find the latest updates on the event below:
Why Was Earth Hour Day Created?
Because of the various environmental issues including global warming and climate change, Earth Hour Idea came as a rescue to tackle these issues. The history of Earth Hour Day dates back to the year 2007 when it was first observed in Sydney, Australia. It was first put forward by the WWF. The event was created to raise awareness about environmental degradation and encourage people to take action to protect the planet. Earth Hour Day has since grown into a global phenomenon, with 192 nations participating annually.
Earth Hour 2023 Date and Time
We're back to that time of year! On Saturday, March 25th 2023, people all over the world will be turning off their lights for one hour to celebrate Earth Hour Day. It will start at 8:30 pm local time and end at 9:30 pm local time.
Earth Hour 2023 Theme
The theme of Earth Hour 2023 is not yet officially announced. But this year, we're going beyond the hour! In our vision for the planet's future, let us bring new light to it.
Also this year, Earth Hour Australia is focusing on the "Time Out For Nature" 2023 campaign. The main objective is to plant more trees and preserve nature as a whole. You can visit earthhour.org.au for more information.
Earth Hour Previous Years Themes
Earth hour Theme 2008 – "We've Turned the Lights Out. Now it's Your Turn" – By turning off your lights when they aren't in use during daylight hours or late at night when they don't need to be on.
Theme of 2009 – "Vote Earth" – Friendly initiatives that help reduce carbon emissions, fight climate change and protect our environment.
Earth Hour Theme of 2010 – "The power of individual action for a sustainable future" – Individuals can become an integral part of the global effort to ensure a sustainable and healthy future for all by taking simple, local steps.
Theme of 2011 – "Go Beyond the Hour" – The campaign is aimed at inspiring people to take tangible steps towards energy conservation and emissions reduction beyond just turning off their lights for one hour on a designated night.
Earth Hour Theme 2012 and 2013 – "I Will if You Will" – With this type of approach, two people can come together for a common purpose, to save the environment.
Theme of 2014 – "Use Your Power to Make Change a Reality" – It all starts with small actions. Using your power to make positive change possible is one of the most important steps.
Earth Hour Theme 2015 – "Change Climate Change" – People from all fields of life should come together to discuss innovative solutions and technology that could help mitigate potential risks against climate change.
Earth Hour Theme 2016 – "Shine a Light on Climate Action" – As part of taking action to help combat climate change, we must start by shining a light on it – by raising awareness of what's happening and engaging others in conversations about how they can be part of finding solutions.
Theme 2017 – "Our Choice for the Planet" – Even with small shifts in how we consume and dispose of goods, changes can be made that show meaningful results for future generation.
Theme of 2018 – "Biodiversity" – It is important to protect biodiversity so that we can maintain the healthy functioning of ecosystems, both terrestrial and aquatic, which ultimately form our primary source of food, water supply, and also filters the air we breathe.
Earth Hour 2019 theme – "Reduce, Reuse, Change the Way We Live" – Changing the way we live is an essential step in becoming true advocates for environmental protection. The key to protecting the environment is following the 3 Rs of environment.
Theme of Earth Hour 2020 – "Climate Action and Sustainable Development" – Both are two sides of the same coin. Both are essential for a successful pathway to curbing global warming and altering our carbon footprints.
Theme of Earth Hour 2021 – "Climate Change to Save Earth" – We can no longer ignore the reality of climate change; we need meaningful action to save our planet before it is too late.
Earth Hour 2022 theme – "Shape Our Future" – From climate change to environmental pollution, we need to be talking about these issues and creating solutions in our communities. Only we can shape our future.
Earth Hour 2023 Latest Updates and Events
The goal of Earth Hour is to raise awareness of nature conservation, climate change solutions, and how we can work together to shape a better future for everyone. All events will be updated here.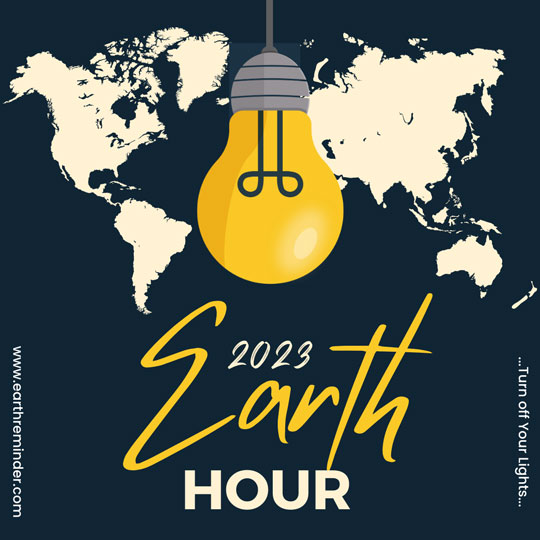 Event Update 1:
According to "Earth Hour Australia", eastern Australia is the only developed nation on the 24-front global deforestation list. Every day, 200,000 trees are cut down in Australia. It's 8,000 trees an hour. Join millions of people worldwide taking #TimeOutForNature this Earth Hour by switching off. Let's take a moment for nature during Earth Hour – whether it lasts 60 seconds, 60 minutes, or even over an hour. We have to keep doing our part throughout the year.
Event Update 2:
To create the 'Biggest Hour for Earth', WWF will bring together people around the world at 8.30pm on 25th March 2023 for an hour of giving back to the planet.
According to WWF, stopping irreversible nature loss and climate change will depend on 7 years from now. We are in a very crucial period of time at the moment. In December last year, the Kunming-Montreal Agreement at COP15 committed the world to combat biodiversity loss by 2030. To preserve nature and biodiversity over the next seven years, we have to keep our planet below the 1.5°C climate threshold to avoid permanent damage.
The iconic Earth Hour switch-off moment will see landmarks and homes take part. During the 60-minute campaign, individuals are encouraged to 'switch off' before helping to save the environment.
Event Update 3:
As a registered charity, Greenrock empowers individuals and companies to make Bermuda economically, environmentally, and socially sustainable. The theme for Greenrock's Earth Hour campaign this year is "Accelerating the Deployment of Renewable Energy". Its objective is to raise private and business contributions to complete the ongoing Offshore Wind Feasibility Study Series. You can visit to their official website: www.greenrock.org
By visiting earthhour.org, you can take part in the official 2023 event.
How to Celebrate Earth Hour 2023?
There are many ways to celebrate Earth Hour – at home with your family, at work with office colleagues, or at a community event. Here are some ideas for Earth Hour 2023:
Event
Attend an Earth Hour party or organize an event in your community. During this time, many cities also host special events, such as candlelight shows and concerts.
Organize some fun games or activities that everyone can enjoy in the dark.
Live music and entertainment can also be provided during this time. The guests can also enjoy eco-friendly, locally sourced refreshments.
At the event, you can share information about climate change and how it affects us.
At Home
First and foremost, make sure you switch off all your lights at 8:30 pm! Lights inside and outside, as well as electronics on standby, are included in this category.
Host an Earth Hour party! Invite friends and family over for an evening of candlelight and conversation. You could also use this time to reflect on what you can do to reduce your carbon footprint and help make a difference for our mother Earth.
Take a walk or bike ride at night and enjoy the beauty of the moonlight.
Try and do something fun and eco-friendly during the hour. Why not have a picnic in the night with your kids, or tell stories by candlelight?
Educate Your children about other important global events like World Water Day, Earth Day, World Animal Day, World Environment Day, etc.
Unplug electronics and appliances that are not in use. Switch to energy-efficient lighting.
Don't throw away food waste; compost it instead.
At Work
Form a team to participate in Earth Hour activities together. You could have an 'energy saving' competition between departments or hold a seminar on climate change and sustainability.
Educate your employees about ways they can save energy at home and office.
Set up recycling bins for paper, plastic, and aluminum cans. Encourage employees to use them throughout the day. Encourage them to follow 3Rs of environment.
On social media use #earthhour2023 #earthhourday2023 #connect2earth to raise awareness.
Encourage employees to carpool or take public transportation to work.
Finally, remember that Earth Hour is just one step in the fight against climate change. Think about what it means to you, and what you can do to help make a difference for our planet every day. Do your part to live more sustainably every day after the event.
Happy Earth Hour Day 2023!