Earth Day
Earth Hour
Environment
Earth Hour Day – Meaning, History and Facts
Here we will discuss what Earth Hour Day is and why it is being celebrated worldwide
Earth Hour Day is a worldwide campaign/movement organized by WWF (World Wide Fund). It is held annually to encourage individuals, societies, communities, shopping malls, corporates etc., to turn off electric lights that are not essential for one hour. Thus, that specific hour will be called Earth Hour Day.
Event Timings are usually 8:30 to 9:30 pm (in the local zone) towards the end of March, and generally, the last Saturday of March is the key focus day every year.
It is not limited to electricity. Here, the main motive is to raise awareness among the world's people about climate change. With the increase in global warming and other environmental issues, many adverse effects on earth have been seen in recent years.
We, the people of planet earth, have to act against the rising temperature of the earth and focus on how to save energy for our future generations. Earth Hour Day is the initiative to fight against all the negatives and convert them into positives.
Earth Hour Day

History and Wiki

The concept was first created in the year 2004 when WWF Australia discussed ideas with an advertising agency named 'Leo Burnett Sydney' for influencing people to act together on the issue of climatic changes. Large-scale switch off the idea of electric items first came in 2006, with the title named 'The Big Flick'. WWF then presented their concept to Fairfax Media and Sydney Mayor Clover Moore, who agreed to give full support.
The first Earth Hour Day was held on 31st March 2007 in Sydney where approx.2.2 million homes and businesses switched off their unessential lights for one hour. In October 2007, San Francisco did the same activity inspired by Sydney activities. After a successful event, the team decided to run this activity every year in March.
In 2008, it was held on 29th March; Earth Hour Day became a huge movement where around 35 countries and more than 50 million people participated globally. For the first time, the UK got involved in this campaign.
In 2009, It was held on 28th March, timings were 8:30 to 9:30, the theme of this year was "vote Earth", and it was messaged as "the world's first global vote". Here, WWF partners up with Earth Hour to create fabulous celebrations of our mother earth. Around 88 countries participated globally, which included more than 4000 cities and towns.
In 2010, 128 countries and territories took part, and the world's iconic buildings and landmarks from one ocean to another stood in darkness.
In 2011, the campaign title was named "Beyond the Hour". This tagline was created to pledge that we will take care of our mother earth even after Earth Hour Day, i.e., we will reduce the consumption of resources throughout the year. The new logo was 60+. Previously it was "60".
Here 135 countries took part with a record of 5251 cities and towns. The event also focused on "endangered species" like dolphins and tigers and saving them.
In 2012, the Headquarters of Earth hour was moving from Sydney to Singapore. Here more than 7000 cities across 152 countries took part in the event.
In 2013, Earth Hour Day was held on 23rd March, and timings were the same 8:30 to 9:30 (locally). Many initiatives were taken place globally, such as;
Russia– petitions were signed by the people through WWF-Russia. It was done to make amendments to current forest rules and legislation along with protecting seas from oil pollution. It reached more than 127000 signatures before the main event.
Africa– In Uganda, the world's first Earth hour Forest began, where the aim was to restore 2700 hectares of degraded land. Here, the bank named "standard chartered bank" pledged to fill the forest with millions of trees (more than 250,000).
Argentina– Raising the protection of sea and species from 1% to 4%. Around 3.4 million hectares of the sea was protected at that time.
In 2014, Earth hour blue was launched for crowdfunding purposes all across the globe. It was a collective effort from the individuals to use collected funds to realise the global goals towards earth care. More than $60,000 was raised with this event from around 162 countries.
Earth hour day became more successful with the digital revolution as many people were connected digitally to the event.
#Passthepanda selfies popped up on social websites. Massive support from the UK to Australia, Uruguay and Russia came. People across the globe shared photos on social platforms regarding this event.
In 2015, for our mother Earth, a record of 172 countries across the world stood together for switching their light off for one hour. The tagline was "Change Climate Change". More than 1200 landmarks were switched off during that period.
In 2016, 178 countries participated. With the increase of social platforms, awareness was much higher than in previous years.
In 2017, 10 years of the anniversary was celebrated for the Earth Hour Day, and 187 countries participated, and more than 3000 landmarks were switched off; 30 countries saw #EARTHHOURTREND, 15,393 Facebook Pages Donated their feed with a potential reach up to 12 million.
In 2018
, the theme of Earth Hour Day was titled "Let Nature Shine", with a focus not only on electricity but also on biodiversity on Solar-powered energy. Participation of 188 countries and territories were recorded. Around 18,000 landmarks were switched off for 60 minutes. Hashtags trended across 33 countries. For the first time, people worldwide joined 'connect2earth' for conversation and to share their feelings towards Earth and nature.
Earth Hour 2019
It was held on 30th March 2019. The theme of Earth Hour 2019 was "Reduce, Reuse, Change the Way We Live", this theme supports renewable energy and support recycled products. But we Have one question – Do we really need any tagline to work on it? The answer is NO. As human beings, every problem related to earth is a major problem which we need to control.
If you will think that what's the benefit behind it!! Is there any profit motive? The answer is again NO. Here we do things according to our need, feelings, and duty towards "Mother Earth". No one is forcing us to follow any trend, but our sole responsibility is to give back earth all the care it deserves.
Rome wasn't built in a day; in the same way, we cannot change daily activities in one day, but together we can change the whole Earth resources consumption pattern. Starting today, save as much energy as you can and advise other people to follow the same.
Earth Hour 2020
Every year we celebrate Earth Hour with a particular theme, but the main focus was on the Australia bush-fire this year. Also, due to covid-19, people stayed home and safe with family.
This wildfire was one of the devastating events that happened in Australia. This wildfire has destroyed almost 8.4 million hectares of forest area that killed more than 1 billion animals and 28 people. It is a significant loss for the environment.
WWF-Australia has launched a plan to plant approximately two billion trees by 2030. This is a great initiative taken by WWF-Australia to support the wildlife destruction caused due to bushfires.
Apart from the Australian bushfire, many other environmental problems were considered in Earth Hour 2020. For example– As per the announcements made in the Global Climate Action Summit (held on 14th September 2018), the main agendas that were focused on this year are;
Minimize food loss and waste up to 50% by 2030.
Global Environment Facility announced funding half a billion US dollars to improve land and conservation of forest.
As per the Walmart announcement, a platform will be developed to stop deforestation, minimize carbon emissions, etc.
The global leaders set the environmental agendas during Key Global Conference and Forum this year. In this conference, the decisions were taken on the most crucial environmental topics such as climate change actions, nature protection, and sustainable development for the upcoming decades.
Earth hour day 2020 was an excellent opportunity to combine the voices of millions of people across the world to deal with environmental issues.
Earth Hour 2021
Last year, we celebrated Earth hour day on 27th March. And as per the report from their official website, it has broken all the records to date.
About 192 countries and territories participated in inspiring and enlightening the hope of saving our earth from unsolicited circumstances.
Organizations, celebrities, and individuals from different nations take responsibility and, in the middle of such hardship, celebrate the earth hour with a lot of awareness.
The earth hour organization had created a virtual spotlight video to demonstrate the requirement of immediate action that could prevent us from future pandemics like COVID-19.
That video strikes hard among our population to start acting now to fight against our careless behaviors. And within 24 hours, it received 2.4 million views and multiple shares on social media.
Earth Hour Day 2022
In 2022, the earth hour day was celebrated on 26th March Saturday. That year was unique and crucial in making the event highlight more because a United Nations Conference was held from 25th April to 8th May. That determined our future welfare, and for that reason, it was essential to put forward the climate crisis case and work strictly towards the next decade.
According to the authorities of the Earth Hour organization, that year, a momentous event – the UN CBD COP 15 (United Nations Convention on Biological Diversity 15th Conference of the Parties) – was organized at Kunming, China.
At that event, global authorities, leaders, and representatives discussed all the plans and action steps for our upcoming future.
Thus, that was a golden chance to motivate everyone to be more conscious about our future well-being and take preventive measures before 2030.
Earth Hour 2023
In support of preserving nature, people worldwide are participating in #TimeOutForNature during Earth Hour by switching off.
We must continue our efforts to protect the planet throughout the year, taking a moment to appreciate nature during Earth Hour, which can last anywhere from 60 seconds to an hour. But as humans, we should go beyond the Earth Hour 60 minutes and help our planet.
WWF aims to create the 'Biggest Hour for Earth' by uniting people worldwide on 25th March 2023 at 8.30 pm for an hour of giving back to the planet.
How Can We Celebrate Earth Hour Day?
You can post on social media by hashtags #earthour2022 or #earthhourday2022 so that many people will get aware of this event.
Participate in connect2earth and share your voice with the world by joining the conversation across the globe.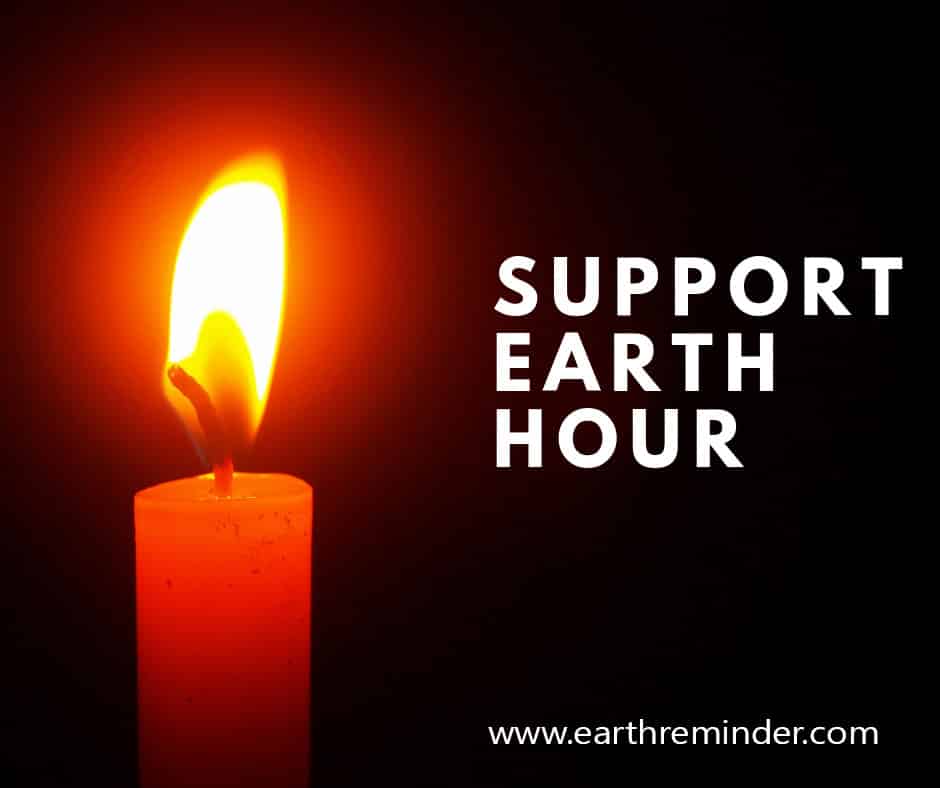 Candlelight dinner: Romantic! At the same time-saving energy for the whole time. The good news is that you don't need a partner for this thing; you can do it with family. If every person adopts this pattern, you can imagine how much energy can be saved daily. Little contributions matter a lot.
Stay tuned for more updates about Earth Hour Day; in the meantime, you can check how "Earth Day" is different from this event.