How To Improve Environmental Education?
Do you know what the most dominant influence on changing the world is? It's education. With the help of proper education, education can create awareness, and that can help us to shape the world we live in.
As global citizens, we must learn more about the environment we live in and the environment we will leave for future generations. For that reason, environmental education is essential.
Unhealthy environments are not good sites to live in, and they have a detrimental impact on all species on Earth. We, as humans, are among them.
So, by learning about the environment, we may educate others to learn more about mother nature, allowing us to establish a healthy ecosystem for all of the species that dwell on our planet.
What is Environmental Education?
Environmental education is a process that helps people to understand more about the environment and its different issues and encourage them to take action to solve different problems related to the environment.
According to the National Environmental Education Act of (1990) USA, the Environmental Protection Agency (EPA) of the USA must offer national leadership in increasing environmental literacy.
In short, environmental education is a study of the interaction between nature and the human system. Environmental education helps people become familiar with their surroundings and empowers them to take action to solve any present and future environmental issues.
How To Improve Environmental Education?
Generally, environmental education refers to the processes by which individuals and groups of people learn about how the environment works, what is happening to it, and how this affects human society and the natural environment. Below, we will focus on ways to improve environmental education in schools, offices, and at home.
How To Improve Environmental Education in School?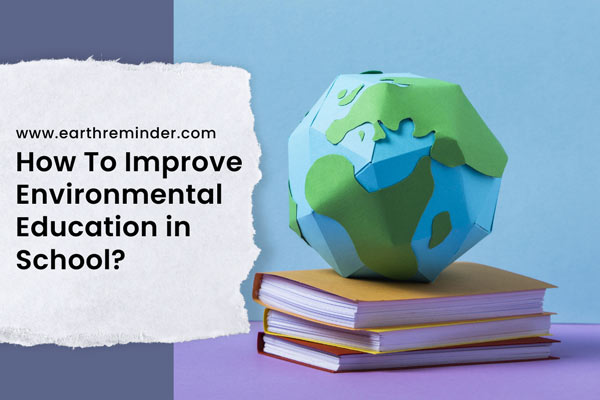 Explain The Concept to Students
Make students understand the logic behind it: The students cannot grasp a clear idea about what it is. They will not be able to understand the environment only by reading and writing.
You can go outside with them for a certain amount of time within the class period or put the students on some projects where they can actively take part in those activities that are related to the environment.
By Teaching Them World View
There is a phrase that we often listen to people say, "Think Globally and act locally." Well, this is not just a proverb now. It is the teacher's responsibility to make sure that the students practice it.
Today, we face issues such as global warming, climate change, and other natural calamities. Therefore, students need to understand and appreciate the cultural diversities all over the world, which can help them understand the negative impacts of our over-consumption.
Government Grant for Environmental Education Projects
The institution can get a government grant for environmental education projects: They can take bits of help from the government and collaborate on different Environment related projects government, which will help improve environmental education, and students can learn better about environmental awareness.
The environmental education Grants Program in the USA welcomes grant submissions from qualifying applicants to fund environmental education initiatives that promote environmental awareness and stewardship and help give individuals the tools to adopt responsible environmental actions.
Since 1992, EPA has distributed 2-3.5 million dollars as grants and over 3,800 grants have been supported by EPA funding.
If we take another instance, all schools in Northern Ireland in the UK are registered in the Eco-Schools Programme, which collaborates with various environmental education groups to promote school environmental standards. These collaborations can help to improve environmental education in different educational institutions.
Encourage Students to Practice Practical Tasks
Please encourage students to practice what they have learned at school: Always give them some practical tasks related to stuff they learned about environment. Students often feel that they have to complete endless theoretical tasks, and they can struggle to see the point of it all. However, if you can find ways to link theory and practical work together, students will be more engaged and motivated about saving the environment.
Arrange Environment Fair
Another great way to improve environmental education is by influencing the mind of young people. There can be an arrangement of events like 'environment fair'. The students can showcase various exhibitions of different environment-friendly goods, presentations, and films on critical environmental issues like Global warming, Climate change, and pollution. All of these efforts can have a significant impact on the young minds about Environment.
It has been found from a study that high school students who attended an environmental fair became substantially more engaged and knowledgeable of environmental concerns than they were before the fair.
Different Children's Activities and Eco-Development Camps
Different children's activities can help the students to get to know more about the Environment. In India, the National Museum of Natural History conducts different activity events like spot painting, poster design, etc., to improve environmental education among students.
Recently a new set of guidelines has been established by the Division of Environment (DOEn) for creating awareness in youth to introduce students to the practice of sustainable development.
How To Improve Environmental Education in Work Places?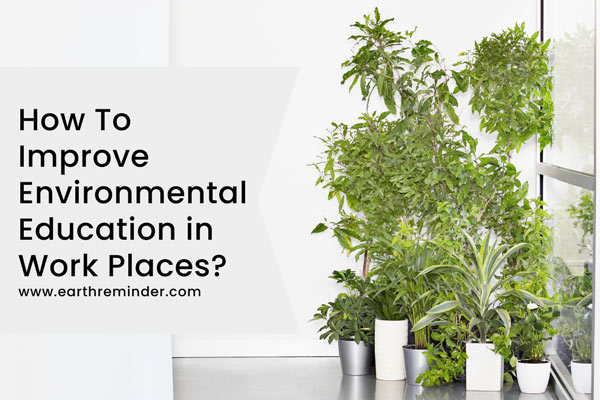 Make Your Office Greener
Add greenery into your office: Along with formal school education, practicing and improving workplace environmental education is essential.
Plants may enhance your workstations, improve the general ambience of your company, and decrease stress and worry for your employees.
In an experiment conducted by NASA in 1989, it was found that indoor plants could remove cancer-causing volatile organic compounds like formaldehyde and benzene from the air.
Set Up a Green Team
Establish a 'Green team' in your organization: In the office, a team can be set up; this team will observe and promote environment-friendly behavior.
Although different companies have already started to take some moves to promote environmentally friendly moves, different Corporations like Starbucks, Hyatt, and Alaska Airlines are putting effort into decreasing plastic waste. They have released declarations vowing the abolition of plastic straws.
Keep paper usage to a minimum: If possible, encourage employees to use digital documents whenever possible, and recycle any excess paper they may have.
As an employer, you can educate your employees about energy conservation. Make them aware of the fact that small changes, like turning off lights and computers when they are not in use, can make a big difference in their lives and environment.
How to improve Environmental Education at home?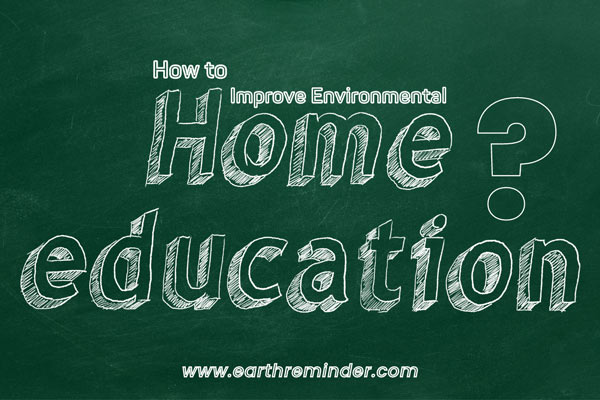 Involve Children in Backyard Activities at Home
The improvement of environmental education also contains home education. The parents can involve kids in the backyard activities like sowing seeds, preparing compost, watering plants, etc., so the kids can spend a lot of time with nature and become more aware of the surrounding environment.
Introduce Them to Different Natural Elements
Educate them about different natural elements present in the surrounding: the parents can teach their children about various plants in the neighborhood and different animals and birds. In this way, the children can be more knowledgeable and aware of nature and its elements, improving their environmental education.
Talk About Environmental Issues
Make sure that you discuss various environmental issues with your children on a regular basis. Also, give an explanation of why it is so vital to protect our planet and how each and every one of us can play an important role.
Take Them on Nature Trips
Don't miss the opportunity to show your kids the beauty of nature and make them appreciate all that the Earth has to offer. You can go for hikes, visit the beach, go camping, etc.
Conclusion
A major goal of education is to ensure that everyone lives a healthy and happy life. Improving environmental education is a task that anyone can do, whether you are a teacher, parent, or employer.
By providing environmental education, we can ensure the preservation of precious natural resources, save endangered species, promote sustainable development, and prevent the horrors of pollution.
We hope that this article has inspired you to take action in your own community to improve environmental education. Remember, every little bit counts!