Want to Start an Organic Farming?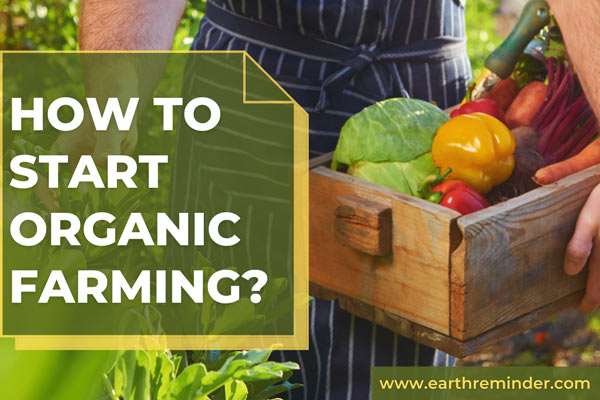 Recent years have seen more awareness about the environment, ecology, and biodiversity of the planet. There is a rising concern over changing climate, land degradation, and shrinking water bodies.
Activities that have led to unprecedented human advancement have also put a heavy toll on Earth and its resources. We have conquered the land, the waters, and even space, but we have laid waste to the vast expense of Earth's ecosystems. And the major contributor has been the intensive farming practices.
Pushed to meet the needs of an exponentially growing population, farmers worldwide have adopted means that improved production dramatically. However, the heavy use of chemical fertilizers, genetically modified seeds, and intense irrigation practices have done lasting damage to the environment, water, and soil – not to mention the health hazards these chemicals and the chemical fertilizers filled crop pose.
But now, people are transitioning to a more supportive form of agriculture practices that respect nature's ecological and environmental balance, farming practices that strike a balance between production and regeneration, quality, quantity, and health.
Thus began the tradition of growing crops the organic way, devoid of everything chemical and synthetic. Incidentally, there is a growing demand for organic products from the more responsible consumers. More farmers are reverting to the old natural ways of farming to meet the growing enthusiasm.
But transitioning to organic farming has many challenges down the lane. How to start organic farming? Where to look for the information, the bureaucratic procedure involved, and how to adopt a profitable organic farming business model? Here are all the answers you need to be labelled as organic farmers.
Start Organic Farming: Basic Requirements
When deciding to shift to organic farming, you have to adopt whole different tactics of growing food. There is much to learn and do before you can truly call your produce organic. But whatever you grow, there is basic requirements and understanding you should be aware of for organic farming;
In the production of crops, vegetables, or fruits, NO synthetic chemicals or fertilizers should be used.

Similarly, in the breeding of livestock, feeds and medicine that involves synthetic chemicals or materials prohibited by regulatory bodies must NOT be used. 

Both in breeding and cultivation, GMOs (Genetically Modified Organism) should not be used.
You will also need proper certification in case you intend to start an organic farming business (more on that later). However, these are the basic requirements that every organic farmer must adhere to, to call their produce truly organic.
How To Turn Yourself into An Organic Farmer and Begin Organic Farming?
You understand the basic requirements of organic farming, but that doesn't entitle you as an organic farmer. You have to actually grow food the organic way. For that, you have to acquire as much knowledge as you can. Start the organic process, meet the set standards of organic products and also grow it profitably. Here are some points to follow to understand the whole process better;
Find Your Motive for Transitioning to Organic Farming
Why do you want to do it? It's the most critical question you must answer before proceeding with your endeavor of organic farming. You must have a genuine interest in producing better quality crops without compromising the environment. Health benefits and environmental benefits should be your first concern.
Search For the Right Information Is Essential to Be Successful in Organic Farming
Once your motives are clear, you must begin gathering as much information as possible. Understand that information is key. Read as much as you can.
The next step is to gather some practical knowledge. For this, meet people in your area who are already doing organic farming. Visit farms, talk with farmers, learn the intricacies and the challenges, and learn about their journeys. Online discussion forums and training courses are also good sources of information.
Anticipate The Transition Period to Organic Farming
Transitioning from traditional to organic won't happen in a day. Conversion of farms and livestock to fully organic required two to three years. During this period, you must adhere to all the specifications and requirements of organic farming.
However, you can't sell your produce as organic during the conversion phase. The conversion phase begins as you notify the local certification body to procure an organic certificate.
How To Start the Organic Farming Business?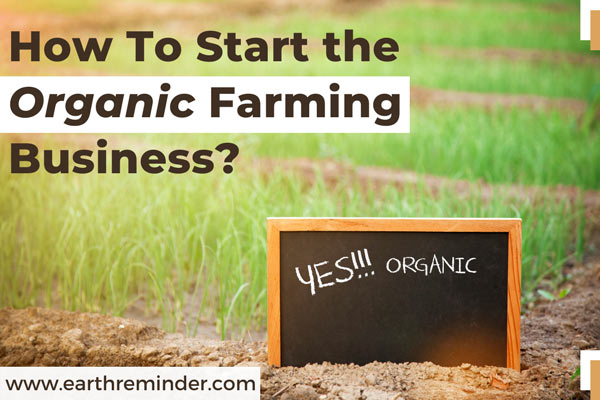 Those who adopt the farming profession aim to cultivate for the market and not just for self-consumption. The choice to begin organic farming is also driven by the same factor.
Although environmental concerns and responsibility are the core of organic farming, economic viability, and business profitability are also motivating factors.
To sell organic crops, fruits, and vegetables, cultivation practices are not enough. Most of the country worldwide requires the farmers to obtain necessary organic certifications, essential to label their produce as organic. It involves governmental procedures, inspections, and documents verification's.
Besides, you have to actually sell your products in a margin to cover the cost and profit. Therefore, you have to treat organic farming as a business and follow all the business rules to make it profitable.
Here's are some essential steps you need to follow to kick start a profitable organic farming venture;
Obtain The Necessary Certifications
Whether you have a small or large farm, you must comply with specific organic certification requirements if you intend to sell your products.
These requirements vary with countries. Suppose you are residing in a country associated with the European Union. In that case, you have to obtain the European certification of organic products and adhere to Regulation (EC) No. 834/2007 of the Council of June 28, 2007.
You need to get in touch with the local control body or agency. The agency will carry out the procedure, verify that you completely follow all the regulations, and then provide you with the necessary certificates.
If you reside in the US and want to start an organic farming business, you must obtain the required certificates from a certification agency accredited to USDA.
Do Intense Market Research Before Starting Organic Farming
Organic farming business poses similar challenges as that of any other business undertaking. Therefore, it's essential to carry out extensive market studies and the possible avenues to sell your products. Carefully identify what's within your ability and possible both technically and economically. You must quantify the impact on your organization's daily work routine and on your time as well.
Adhere To All the Requirements of Organic Farming
No chemicals, no pesticides, no GMOs! These are the three basic requirements and must be followed all the time. If you fail, you might not get clarification to sell your products with the organic label, or your certificate might be withdrawn.
Unless you prove that your products are truly organic, there won't be any significance and defining characteristics that differentiate your product from chemically grown to organic grown. It's a trait essential for the organic farming business.
Conclusion: Organic farming implies more responsibility towards the environment, the ecosystem, and human health. While conversion from intensive agriculture to organic farming is daunting, the end result is worth the effort. You will be contributing to a better, healthy present and a prosperous, more inclusive, and happy tomorrow.