Mountains might not seem like they do much, but in reality, they are nature's one of the most important creations. To raise awareness about mountains, the United Nations signifies December 11 as International Mountain Day. Let's discuss more about the history, themes, and special events occurring on International Mountain Day and find out how to participate.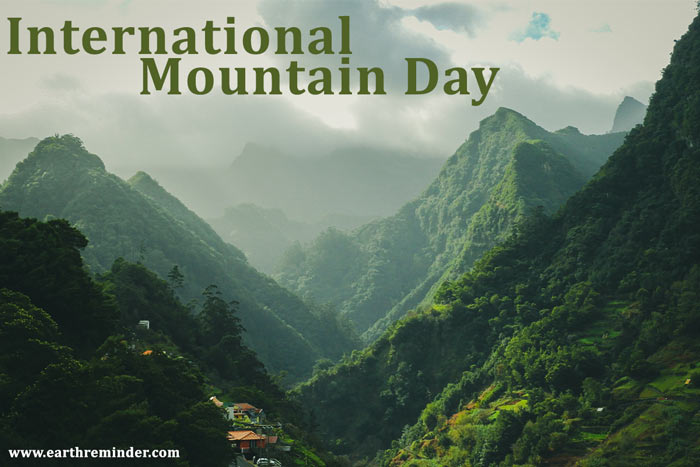 History of International Mountain Day (IMD):
International Mountain Day was officially celebrated for the first time in 2003, but its roots go far back to 1992. At the United Nations Assembly on "Environment & Development," the agenda for "Sustainable Mountain Development" was first adopted.
This was a milestone achieved by the mountain science community, and the following years saw an increased interest in mountain managing.
The year 2002, before the celebration of the first IMD, was declared as the International Year of Mountains. On the great success IYM achieved, the UN General Assembly decided to name December 11 as International Mountain Day.
Just like other nature-related observances, the Food and Agriculture Organisation (FAO) is the coordinating agency for International Mountain Day.
Themes of International Mountain Day:
The first-ever celebration of International Mountain Day took place on December 11, 2003. The celebration occurred in many countries, including the USA, Japan, and Nepal. The theme of the year was "Mountains: Source of Freshwater."
The celebration took place through events conducted by several exhibitions and conventions across the world. The exhibitions emphasized on development of mountains and the contributions made by various organizations in both government and non-government sectors. The events focussed mainly on technology, ecology, the culture of mountain areas.
The theme for the fourth International Mountain Day in 2006 was "Managing Mountain Biodiversity for Better Lives." This year's aim was to improve the living conditions for people living in mountainous regions. The residents of Mount Kilimanjaro, the Tibetan Drukpa, and the China Village in Nepal are prime examples of people living in difficult conditions.
"Mountain Minorities and Indigenous People" was the theme for 2010's International Mountain Day. Its aim was to raise awareness about the indigenous people living in minorities in the mountains. The events hosted this year promoting their culture, their heritage, and their traditions.
In 2012, which marked 10 years of International Mountain Day (including IYM), the theme was "Sustainable Mountain Development." Mountain products, such as tea, which is the main mountain export for developing nations, received quite a lot of special attention. Also, activities such as tea picking and tea growing took place to celebrate 10 years of mountain devotion.
In 2019, the focus of the theme went towards the younger generation. The theme was "Mountains Matter for Youth." This year, the events and activities targeted the youth as the main goal was to educate younger people about mountains.
Mountains are not just geographical structures; they are life served on a plate. Raising awareness amongst the younger generation ensures that someone will carry the torch in the future and continue to bring change in the future.
Last year, International Mountain Day 2020's theme was to protect mountain biodiversity. It was a great day to reflect upon the changes in mountain biodiversity throughout the years and the impacts they have on humans. The events hosted also focussed on the threats faced by the flora and fauna inhabiting mountains and ways to protect them.
The Themes for 2021, 2022, and 2023 with much more details are below.
Importance of International Mountain Day:
Other than the breathtaking landscapes they are, mountains are also home to 15% of the world's population. They contain almost half of the total biodiversity hotspots on the planet. They are regions hosting a significant amount of flora and fauna, which are vulnerable and at risk of extinction.
Unfortunately, mountains are being overexploited by humans (too many mountains are torn apart to make way for buildings and cities). Climate change also poses a huge threat to their existence, as the planet keeps getting warmer and warmer.
Along with this, the people living on these mountains face many difficulties too. On mountains with glaciers, the thousand-year-old ice has begun to melt away. This has a very bad effect on the freshwater supply of people living at the base of mountains.
And these are only the observable effects- as time will go by, the devastating effects will reach people living in non-mountainous regions too.
International Mountain Day aims to control these negative impacts. Devoting one day in a year to mountains helps to raise awareness about their current state and enlightens people. By celebrating International Mountain Day, we all come closer together to indulge in doing something for nature- just for one day. Today, over 78 countries and 130 major organizations are a part of International Mountain Day.
International Mountain Day 2021
The theme of last year was "Sustainable Mountain Tourism." It was a great event and celebrations were according to tradition, on the 11th of December. While this was the official theme, due to the restrictions imposed due to COVID-19, it was also acceptable to host themes of your own.
Mountain tourism is a very popular form of destination traveling, and almost 20% of the tourism industry booms on mountains. Unfortunately, though, because of the COVID-19 Pandemic, tourism has suffered a massive loss.
Sales have gone down by huge numbers, and mountains popular with tourists are now deserted. However, IMD 2021 plans to use this crisis to reimagine and rebuild mountain tourism. We can manage it in a better way than earlier by adopting more eco-friendly methods.
Sustainable tourism in the mountains will aid in creating more jobs and providing a livelihood for thousands. But at the same time, it will also ensure that the landscape and biodiversity remain conserved. Promoting the local crafts, indigenous products, and celebrating traditions will preserve the cultural and spiritual heritage of mountains.
International Mountain Day 2022
Mountain day 2022 was on the 11th of December 2022. Mountain areas rely heavily on women to protect the environment and promote social and economic development.
Men often migrate elsewhere in search of alternative livelihoods because of increasing climate variability and a lack of investment in mountain agriculture. Despite taking on many tasks previously done by men, mountain women remain in the shadows due to unequal accessibility to resources and a lack of decision-making power.
Therefore, the theme of International Mountain Day 2022 was "Women Move Mountains."
By engaging in gender transformative change, we have the potential to trigger a real change in the direction of sustainable development in a positive way.
In rural areas, women can be a driving force against poverty, malnutrition, and hunger if they have equal access to resources, opportunities, and services. In addition, they are active in the development of mountain economies.
As sellers on the local market, self-employed women, farmers, entrepreneurs, artisans, community leaders, artisans, mountain women, and girls can all make a big positive difference in rural areas. We all have to support them.
International Mountain Day 2023
The theme for International Mountain Day 2023 is "Restoring Mountain Ecosystems". In this theme, the UN Environment Programme and the Food and Agriculture Organization recognize the importance of mountains in the UN Decade on Ecosystem Restoration 2021-2030.
"Five Years of Action for the Development of Mountain Regions" has been declared by the UN General Assembly to promote sustainable development in mountain regions between 2023 and 2027.
Approximately 84% of endemic mountain species are at risk because of climate change and unsustainable development. Temperatures are rising and water flow is changing. Therefore, there's no better time than now to raise awareness about mountain ecosystems and take action to protect them from climate change.
How to Celebrate International Mountain Day?
There are countless ways by which you can help in sustaining and maintaining the mountains, even if you don't live in a mountainy area. Simple things like buying more mountain products, such as medicinal plants, mineral water, and olive oil, will help to keep mountains alive.
Applying for partnerships with organizations that help in conserving mountains is a great idea, as it will allow you to directly do something for preserving mountains. To participate in International Mountain Day, you can:
Write to the FAO about any events that you personally are planning to host with your friends. FAO will then publish your experiences and any photographs on their website.
Participate on social media by using #MountainsMatter. You can upload pictures of mountains near you and even share some interesting facts about them.
Organizing virtual presentations or art competitions is a good idea to gain the interest of younger kids and adults alike.
Engage in development projects rewarding mountain people for their stewardship services.
You should go for an official hike if there's a mountain nearby. But please make sure you follow the paths and stay safe.
If you can, plant trees near or on mountains. They play an important role in preventing landslides and protecting the water.
Find out why mountains are important and learn about them. Afterward, tell your friends or teach your kids about it. Remember, sharing is caring. You can also read mountain stories and tell others about them.
You can go for a clean-up activity. You and your friends can pick up trash on a mountain route. By doing this, we keep the world clean.
Watch a mountain movie, documentary, or one set in a mountain.
You can learn a lot about the culture of mountain areas by cooking a meal unique to the area.
Donate to charities that help mountain communities.
Conclusion:
Celebrating International Mountain Day is not just about mountains. It is the dedication and gratitude we display for our mountains, which have such a huge impact on everyone's lives. Thanks to the efforts of the mountain people, mountains are rich in biodiversity and are nature's most beautiful gift to us. Let's continue to keep taking care of our mountains.