My pet dog essay for classes 3 to 6 will give students in-depth details. The whole article is kids and students friendly. Essay on my pet dog teaches more valuable things to students.
Essay on My Pet Dog For Kids
It is written by keeping in mind the understanding level of kids. It will be reader-friendly, and you can gather more information to write one fantastic essay for your school examination.
Introduction to Pet Dog Essay
Animals are a great blessing for this world. After all, the world is covered with people who are jealous, greedy, not loving, etc., and we have to travel with them, no matter if we like them or not.
But there is one saying, grandmas always used to say, "If God gave something bad on your way, he already created a solution for that, it's you, who is responsible to find that solution." That's indeed true.
And the solution for stressed-out people are dogs. The cute little dogs always help us in reducing our stress, reducing mental pressure, and help us in forgetting the bad incident that happened in our day.
In this pet dog dog essay, you will learn—
How does my pet dog help in reducing my mental stress?
How does my dog help in motivating me?
How does my pet dog help in improving myself daily?
What are the things I do for my pet dog to keep it happy?
How does my dog guard my house every time, and why is it doing that?
Unknown things you should know about dogs.
Conclusion of the essay.
How Does My Pet Dog Help in Reducing My Mental Stress?
(Here, kids will know how pet dogs will help in reducing the stress and anxiety of people and mental health as well. They can write the below points in their pet dog essay.)
To reduce mental stress and to keep the mind free, meditation, yoga always helps. But a new friend is way more than better to keep the mind stress-free. Studies say that while speaking about mental health, dogs will help you more than people.
Dogs help in relieving your bad mood.
Since the 1980s, dogs help more in psychological treatment and reduce blood pressure.
Pets love you, even if you don't love them. They give you unconditional love and care.
You don't have to search for someone who will love you truly.
How Pet Dogs Help in Motivating Me?
(Under this subheading, students will know how dogs and pets help in motivating and help in doing things correctly. Write it to gain extra marks in the exam.)
According to Elizabeth Richards, a professor at Purdue University, dogs can be better trainers and also better friends. Many people, or probably pet lovers, love to walk or run with their pets. They love them unconditionally, and that love will turn into motivation.
According to the American Veterinary Medical Association, 36.5 homes own a dog.
A new case study has found out that during this pandemic, dogs helped in motivating their owners a lot.
In Battersea Dogs and Cats Homes, more than 2000 dogs and cats' owners said that they are delighted and motivated to have a pet.
How Does Pet Dog Help in Improving Oneself?
Under this section, children will know how dogs will help improve yourself and your body; This is the chance for you to see the greatness of owning a dog.
Dogs help in improving your lifestyle.
It will make you socialize.
It will help in socializing.
Dog will help in making you obedient.
It will improve your focus, according to the research.
Owning a pet helps you exercise regularly.
And playing with dogs helps in building strong muscles and a strong mind.
Dog helps you in learning more about your responsibilities and patience.
You will turn into a more loving and caring person.
What Are the Things That Keep the Dog Happy?
(This section will teach kids in-depth details and what are the things they can do to make their dog happy and contented. These points will greatly add to essay writing.)
Dogs always give us more but are we giving the real happiness that the cute little dog deserves? Yes, some are giving, but some are not. So, the following are some of the awesome things we can do to make our dog happy and satisfied.
Proper Shelter: A proper shelter should be given to the dog. Like us, dogs too need shelter to take rest and sleep, right? So, give proper shelter to your dog.
Feed healthy dog food. There are many foods and healthy stuff are available in the market which you can feed to the dog.
Play with your dog daily for an hour or two. That would help your dog as well as you.
Play hide and seek with your dog.
Give them proper training.
Keep your dog clean and tidy.
Teach some incredible technic like bow, sprawl, etc., to your dog.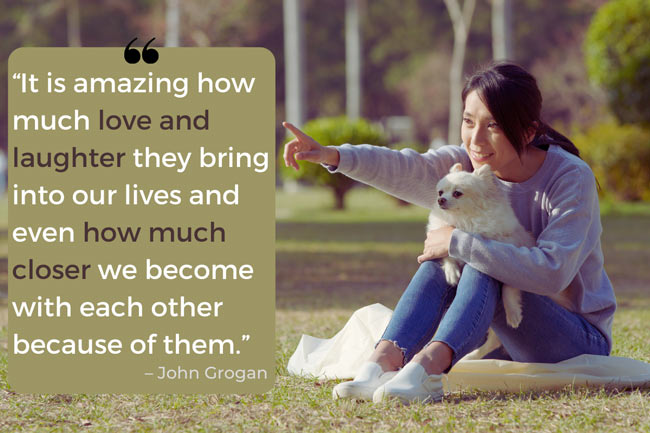 How Dogs Guard Your Home Every Day and Night, And Why Is It Doing That?
(Here, you will know why dogs are protecting and guarding our home and how it is doing that?)
Dogs are guardian angels. It helps us by protecting our house from thieves in the morning and night. And also, it is protecting us whenever we are out or on vacation.
Your dog knows how to be protective as well as possessive. Your dog may have its own home, and you already created a shelter for that. But you will be playing and cuddling with your dog in your home, so it treats your home as their shelter. So, it will automatically help in protecting your house.
Dogs are always better. Its intelligence, its care, its loyalty, its emotions are out of the world. So, it will be helping you.
Strange Things to Know About Pet Dogs
(In this area of pet dog essay, kids will know some mind-blowing stuff that they didn't know about dogs; This will help you and your teachers to learn some fascinating things.)
Do you know that dogs have three eyelids? Three eyelids are called "haw." It will help in protecting the eyesight and eyes of the dogs.
Dogs can understand and speak with a 2-year-old child because they too are as smart as them.
Dogs are more emotional. It has a lot of sense of time, and studies say that dogs miss you when you are late.
Dogs are jealous when you start loving another creature.
Dog's eyes are the mesmerizing ones; when you gaze into those little orbs, it will help in improving the oxytocin, i.e., love hormones.
Conclusion
A little five-sense living creature can love you unconditionally. It can care for you, like your family, and can be as possessive as a lover of your life. It can be a great companion. And loyalty is the best thing about dogs. We hope you found this pet dog helpful essay.