Earth Day
Environment
World Oceans Day: Theme, History and Celebrations
Learn here the world oceans day theme, history, and how we can celebrate this global event.
The concept of World Oceans Day was proposed by the Canadian Govt. at the Earth Summit in 1992 held in Rio de Janeiro. However, World Ocean Day came into existence officially in 2008 by the United Nations General Assembly.
This concept was brought to the international level by the collaboration of the Ocean Project & the World Ocean Network to raise awareness about ocean protection worldwide. Since then, we celebrate World Oceans Day on 8th June every year.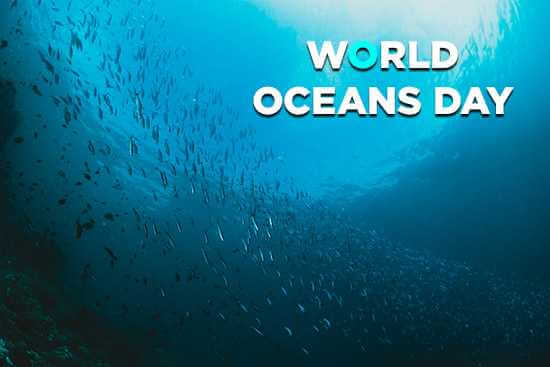 Oceans hold almost 97% of the water on Earth's surface which plays a vital role in the environment. You can also be a part of this day and can contribute to protecting oceans.
World Oceans Day History
It is an event to honor the oceans around the globe that plays a crucial role in the environment. Two conservation organizations (the World Ocean Network and the Ocean Project) celebrated the day in 2002 for the first time with their network of zoos, aquariums, and environmental groups across the globe.
However, the General Assembly of the United Nations officially designated World Ocean Day in the year 2008. Since then the world is celebrating World Oceans Day to protect oceans by up to 30% by 2030.  
In 2008, the UN General Assembly had designated 8th June as World Oceans Day by its resolution 63/111 of 5th December 2008. World Oceans Day (adding an 's' after ocean) was promoted because there are five oceans all over the planet that need to be taken care of to protect the marine ecosystem.  
In 2009, as per a global community effort, the world celebrated "World Oceans Day" for the first time. The aim was to highlight the role of oceans in society and the problem we are facing in connection with the oceans.  
The JPL Ocean Surface Topography (OST) outreach program also came forward to join the World Ocean Community. It worked for a better understanding of people through ocean circulation and various events like EI Nino Southern Oscillation (ENSO).
In 2010, the Ocean Project and World Ocean Network had recorded to organize more than 300 events for the celebrations of World Oceans Day. It was a great involvement of various countries worldwide in the year 2010. 
Forty-five countries took part in the celebrations of World Oceans Day this year such as Belgium, Nigeria, Kenya, Malaysia, Portugal, Bangladesh, French Polynesia, Ghana, Malta, Venezuela, etc. 
In 2011, the celebrations of this day were mainly planned to inspire the youth to understand their responsibility toward oceans protection. It was the beginning of a two-year theme "Youth: the Next Wave for Change".  
Based on market research, the youth was focused because they are the most promising and passionate members of society. They can put a lot of effort to succeed in protecting oceans.
In 2012, the celebrations of World Oceans Day, including various events and programs were planned with a lot of excitement. According to the UN Environment Programme, waste disposal is one of the primary reasons that causes marine pollution. We need to follow the guidelines to save our oceans and to save the planet.
In 2013, the Department of Environmental Affairs hosted the SA Agulhas II Open Day. It was an excellent opportunity for the people to know more about the operations and department's research on the ocean & coastal environment.
In 2014, hundreds of events were organized to support World Oceans Day. These events were planned so that every individual can contribute to protecting oceans by participating in different programs such as trash-free coasts & beaches, clean energy choices, sustainable seafood, etc.  
In 2014, the UN also launched a photo competition to make the celebration more exciting. The completion was named the "annual amateur World Ocean Day Oceanic Photo Competition". 
In 2015, the IOC (Intergovernmental Oceanographic Commission) of UNESCO organized a full-day program dedicated to oceans' role in the environment. This program consists of 4 workshops, roundtables, and an open campus for youth and exhibitions, etc. 
World Oceans Day 2015 has increased awareness among people about the importance of oceans and the impacts of preventive measures on oceans' health.
In 2016, efforts were made for healthy oceans and a healthy planet. IOC was delighted to celebrate this event. People across the world organized various events and activities to protect our oceans and biodiversity. 
In 2017, the UN Ocean Conference was held from 5th to 9th June for the benefit of humanity by recognizing the preventive measures to take care of the health of oceans. The main objective of this conference was to support the implementation of SDG14 (Sustainable Development Goal 14).  
In 2018, the UN General Assembly recognized plastic pollution as one of the biggest problems for oceans. The assembly chooses to raise awareness about plastic pollution, its effects on the marine ecosystem, and how it can be handled.
This year, the focus was given to minimizing the use of plastic in our daily life. If we can reduce the amount of plastic waste that is ultimately dumped into the oceans, we can help a lot to conserve marine culture.  
In 2019, "Gender and the Ocean" was the theme for World Oceans Day this year. The international communities have planned to promote gender equality through ocean-related activities such as fisheries, migration by sea & human trafficking, marine scientific research, labor at sea, policy-making & mgmt. etc.
World Oceans Day 2020, The planning and preparations for the celebrations of World Oceans Day 2020 were in the acceleration mode.
The theme of world oceans day 2020 is "Innovation for a Sustainable Ocean". This year the main focus was given to the innovations for ocean sustainability. 
Various events and activities were organized to celebrate World Oceans Day 2020 such as WODI, MC12 (12th WTO Ministerial Conference), World Oceans Day 2020: Global Celebration @ UN, 2020 Chesapeake Community Research Symposium, etc. Everyone should take part in these events to save marine life.
World Oceans Day Themes
World Oceans Day 2009 theme- "Our Oceans, Our Responsibility."

2010 theme- "Our Oceans: Opportunities and Challenges."

World Oceans Day 2011 theme- "Youth: The Next Wave for Change."

2012 theme- "Youth: The Next Wave for Change."

World Oceans Day 2013 theme- "Ocean and People."

2014 theme- "Ocean Sustainability: Together We Have the Power to Protect the Ocean."

World Oceans Day 2015 theme- "Healthy Ocean, Healthy Planet."

theme- "Healthy Oceans, Healthy Planet."

World Oceans Day 2017 theme- "Our Oceans, Our Future."

2018 theme- "Clean Our Ocean: Preventing Plastic Pollution and Encouraging Solutions for a Healthy Ocean".

World Oceans Day 2019 theme- "Gender and The Oceans."

2020 theme- "Innovation for a Sustainable Ocean."

World Oceans Day 2021 theme: "The Ocean: Life and Livelihoods."
2022 Theme: "Revitalization: collective action for the ocean."
World Ocean Day 2021
The Florida Aquarium has organized an event, "Party for the Planet", in partnership with the association of zoos and aquariums to celebrate three international days. These three days are Earth Day, endangered species day, and world ocean day. It was organized on 22nd April 2021 to celebrate our earth's biodiversity by taking the pledge to conserve and protect its resources.
DB Schenker of Omen organized a deed dive ocean clean-up event on the 4th of May and cleaned up about 188 kgs of old fishing nets accumulated deeply in the coral reefs for the celebration of world ocean day at Dimaniyat Islands.
On 5th June 2021, several beach clean-up events were conducted in the USA. Tradewinds Island Grand organized this clean-up at Pete Beach, Florida, for clearing the single-use plastics and other debris from the shores. This was done in honor of world environment day and world ocean day.
Another beach clean-up happened at Spring Creek Park, which started on 6th June and ends on 1st July. Also, the Surfrider Foundation has organized a shore clean-up event at Jamaica Bay and Rockaway. This event was conducted to remove the floatable trash, plastics, and marine debris.
From 5th June to 1st July, the Marsh grass planting event was organized at Jamaica Bay. American Littoral Society's Northeast Chapter, NYC Parks, and NYC Audubon have conducted this to celebrate world ocean day with a motive to restore a saltwater marsh in Sunset Cove Park.
There are numerous other online and offline events organized and celebrated globally in honor of world ocean day. Most of which involve shore clean-ups, which raise a strong voice towards protecting and conserving our marine biodiversity.
World Ocean Day 2022
The theme for World Ocean Day 2022 is "Revitalization: collective action for the ocean."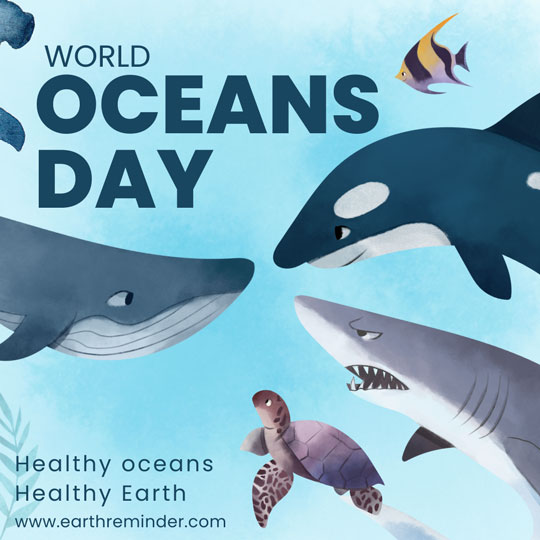 Like every year, world ocean day is going to be celebrated on 8th June; This year's celebration is unique among all the previous celebrations. This year it will be celebrated in a hybrid way during which both in-person celebrations in the united nation will occur along with the live broadcast.
On behalf of world ocean day, the blue leaders are championing the call for a network of highly and fully protected areas.
Further, the World Ocean Day organization is raising awareness about protecting the oceans from toxic oil transportation by adopting alternative energy sources.
This year, on May 22, a deep underwater cleaning event will be organized by the Antalya Underwater Association for the celebration of world ocean day. They are raising awareness by the slogan "clean sea, clean future."
For raising awareness, some exhibitions and workshops are organized across the island of Jersey C.I. This is a month-long event and is going to begin on June 4.
On Sunday, June 5, another occasion is going to shell-a-brate where frost science is the main focus. The organization wants people to join to take action towards saving 30% of our blue planet by 2030 – otherwise symbolized as "30×30.'
Besides these, several other organizations and individuals are taking regular actions including coastal cleanup and bringing awareness for preserving our ocean-atmosphere and the biodiversity within.
Also, you can add your world ocean day 2022 events, through the WOD interest form.
How We Can Celebrate World Oceans Day?
There are many ways to celebrate world oceans day –
There are various activities and events organized on World Oceans Day every year. You can join any of these and participate in World Oceans Day celebrations. Check here the official website for the same.

You can raise awareness about the conservation of oceans. A very interesting way to share this kind of information is by watching documentaries such as The Blue Planet, A Plastic Ocean, Mission Blue, Sharkwater, etc.  

You can also use social media to raise awareness about the importance of the ocean and its conservation.

Plastic is one of the major causes of marine pollution. We need to cut down plastic accumulations in the oceans by avoiding single-use plastics.

You can make a small group with your friends and organize a clean-up event to clean the beaches. 

You can plan a visit to a local aquarium or marine park to understand more about ocean culture and its creatures. 

People consume a variety of seafood across the globe. If you can avoid consuming seafood, it will have beneficial impacts on the marine ecosystem. 

The burning of fossil fuels also affects the oceans. It releases carbon dioxide that changes the water quality into more acidic, which is quite unfair to ocean life. Hence we need to minimize the use of fossil fuels to reduce carbon dioxide levels in the atmosphere. 
Recycling helps a lot to treat plastic wastes that ultimately end up in oceans.

You can also donate to the organizations which are in the protection of oceans worldwide.  

Plan a visit to a beach any weekend to experience the beauty of the ocean world.
Oceans are home to millions of species including plants and animals. Ocean provides a suitable environment for these species to survive underwater. Not only this, but oceans also supply much of Earth's oxygen and absorb carbon dioxide.
Oceans have great importance towards the environment that cannot be denied, but the sad truth is that we are polluting our oceans in many ways. Over-exploitation and pollution are spoiling the ocean culture affecting the sea creatures and their habitats as well.
World Oceans Day allows us to remind the importance of oceans in our life. This day also reminds our responsibilities toward ocean conservation. If you genuinely care for oceans and the planet then be an active participant in this event every year and play your responsibility with dedication.