Wildlife is critical to maintaining environmental balance. Unique biological processes in nature are stabilized by wildlife. Not just that! It does, however, play a significant part in the growth of the economy. It draws visitors from around the world to witness these breathtaking natural marvels. World Wildlife Day offers you the opportunity to understand the importance of species like lions, elephants, peacocks, and more.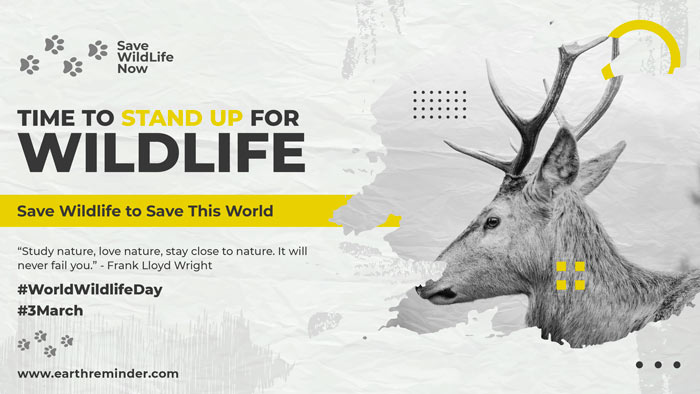 When Is World Wildlife Day?
On March 3, annually, World Wildlife Day is observed. World Wildlife Day was decided to be marked on March 3 every year by the UN General Assembly (UNGA) during its 68th sitting on December 20, 2013. It was also the day to commemorate the signing of the "Convention on International Trade in Endangered Species of Wild Fauna and Flora"(CITES). Among the most significant yearly wildlife celebrations globally, World Wildlife Day has grown in prominence since its establishment in 2013.
There are many species on our planet, and wildlife occupies an important place in maintaining the balance of our ecosystems. Individuals are encouraged to learn about a wide variety of flora and fauna from all across the world on this day. To put this differently, it is a celebration of the diversity of life on our planet and is also a way to draw attention to the plight of wildlife.
World Wildlife Day Themes
Annually, the theme of World Wildlife Day changes. The following are among some of the preceding year's themes:
World Wildlife Day Theme 2018 – "Big Cats: Predators under Threat."
This was intended to bring attention to the problems of big cats, including lions, jaguars, leopards, tigers, cheetahs, and cougars, and demand their protection.
World Wildlife Day Theme 2019 – "Life below Water: For People and the Planet." (2019)
We can't afford to disregard the importance of protecting marine species and their ecosystems in our daily lives. At the same time, practical conservation and sustainable management of these animals was the main focus, intending to increase backing for such efforts in the long term.
World Wildlife Day Theme 2020 – "Sustaining all life on Earth." (2020)
It emphasized that ecosystems and the lives of persons who live close to nature are included in this category. Additionally, it highlights the necessity of ecological sustainability in pursuit of the UN's Sustainable Development Goals.
World Wildlife Day Theme 2021 – "Forests and Livelihoods: Sustaining People and Planet." (2021)
It focused on the United Nations' attempts to encourage activities that may aid in sustainable development, particularly cultural traditions and understanding, by recognizing the importance of forest-based livelihoods.
World Wildlife Day Theme 2022 – "Recovering key species for ecosystem restoration".
Throughout this year, WWD's focus was on drawing attention to the plight of our planet's most threatened animal and plant species. This was followed by developing and adopting practical solutions to their preservation.
The UN's Sustainable Development Goals also call for establishing a balanced human contact system with a few of our most incredible essential natural resources. The Threatened Species Red's List of the IUCN lists 8,400 plants and animal species as dangerously threatened and almost 30,000 endangered.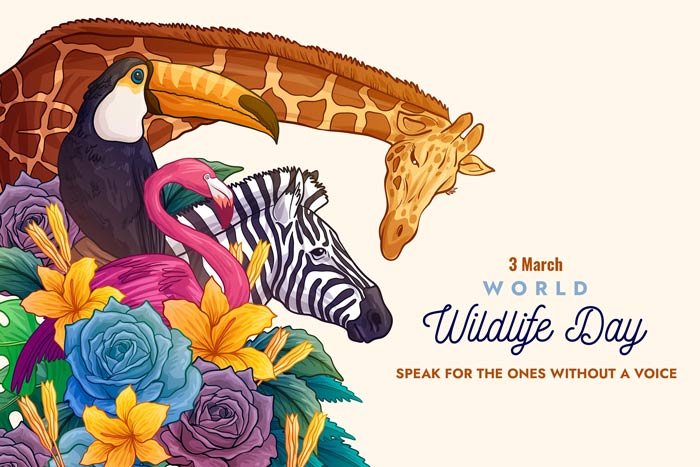 World Wildlife Day 2023 Theme

The theme for World Wildlife Day 2023 is "Partnerships for Wildlife Conservation". In order to protect wildlife, governments need to establish partnerships, collaborate with civil society organizations, and engage with local communities.
Our WWD theme recognizes that, by working together and cooperating across sectors, we can all contribute to conserving our planet's wildlife. Through partnership, we can build bridges between people from different backgrounds and provide new perspectives on how to protect nature in the future.
Also, strengthening these partnerships will give us a better chance of preventing threatened species from becoming endangered and preserving biodiversity for everyone's benefit.
Participation from all sectors can also help conserve wildlife species by;
Recognizing their national importance,
Achieving long-term survival by identifying threats,
Assuring that collaborative approaches are sustainable and adaptable to changing circumstances.
This theme also supports the overall objectives of the CITES. Examples of such collaborations include:
Improved coordinated wildlife conservation efforts on private land.
Initiating global research networks around threatened species.
Reaching out to local communities with social media campaigns to bring their perspective to conservation discussions.
Supporting ecotourism as a sustainable source of income.
Ensure that the necessary laws are in place to protect rare habitats.
These initiatives help strengthen a strong commitment among society at large to protecting one of Earth's most valuable assets: its diversity of life. Together, we can take collective action to preserve the unique biodiversity of our planet.
World Wildlife Day 2023 Events and Activities

Annually, the United Nations selects a new theme. As a result, you'll be motivated to choose an activity that goes well with your lifestyle. Some of the activities are as follows: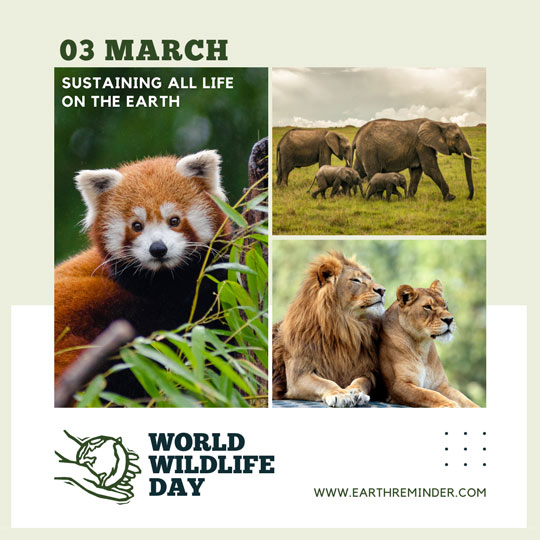 You may visit nature reserves, beautiful gardens, aquariums, and more.
Assist or offer your services to a protection initiative in your area or worldwide.
Discover and share your knowledge of our planet's vegetation and creatures.
During this time, You can watch a documentary on animals, spread awareness on social media to protect animals while staying at home and staying safe.
Use the hashtag #WorldWildlifeDay on social media to promote World Wildlife Day. You can share photos and facts about wildlife with your friends and family.
World Wildlife Day is a terrific chance to educate children on how wildlife depends on us and why we depend on them. While nature in our world needs continual care, World Wildlife Day is a beautiful time to teach students in the classroom.
When teaching your children about the need for self-sufficient communities and the glories of the natural world, you don't need a zoo to get the job done. In your region, you could find farm businesses that let classes visit and provide programs that give students an up-close look at how animals are used to produce our country's crops.
Although it's exciting to discover animals, it's also vital to understand how our activities affect their environment. Educators utilize this oil spill exercise to raise awareness about a genuine threat we face today: oil spills, which devastate aquatic ecosystems and animals.
If you live near the shore, you'll rarely lose opportunities to study outdoors. In addition to taking your kids on a beachfront clean-up, you may teach them about the importance of marine life and how they fit into the ecology of the local and global environment. If you don't have access to the ocean, a lake or pond will suffice. You might include a stop to your local aquarium on your itinerary.
World Wildlife Day Facts
Does your knowledge of wildlife go deep enough? You might be astonished to discover some of the world's most significant efforts and information. To celebrate this World Wildlife Day in 2023, we'll take a look at some interesting facts.
BEECH POWER and Central parks are two initiatives with which the European Wilderness Association is presently collaborating. These two programs specifically answer nature conservation and community participation.
This ecosystem-based, community-based strategy is used by BEECH POWER to ensure the long-term viability of World Heritage sites. The program's vision is to enable local people and give them the skills to maintain World Heritage beech forests by creating repeatable and creative models.
Carpathian environment protection and regional development are the goals of Central parks, a Carpathian-based non-profit. Ecology and terrain preservation, sustainable tourist expansion, coordinated wildlife conservation strategy, habitat assessment, and contact with local populations are among the goals of Carpathian specialists.
Approximately 200 to 350 million individuals live in or near wooded regions around the globe and rely on the forest's numerous ecological processes, as per wildlifeday.org research.
Worldwide, animal numbers have decreased by 58% in the past 40 years, as per a controversial World Wildlife Fund assessment.
A great deal of aquatic life is supported by coral reefs, which provide shelter from high waves and predators.
Although the wild population of the Hawaiian crow was pronounced extinct in 2002, efforts to replenish the island with birds grown in captivity began last year.
Conclusion
Everybody must look after the animals around them. World Wildlife Day is a significant occasion for promoting consciousness of the incredible range of species and aquatic life that currently exists. With the amount of threatened and extinct animals on the rise, it's more vital than ever to spread awareness about how we might contribute to saving the earth so that coming generations can benefit and enjoy these beautiful species around them!