Energy-saving tips are of utmost importance. Saving energy can benefit us in various ways, including environmentally, financially, and for the betterment of humanity. It is a collective task that requires everyone's participation to succeed.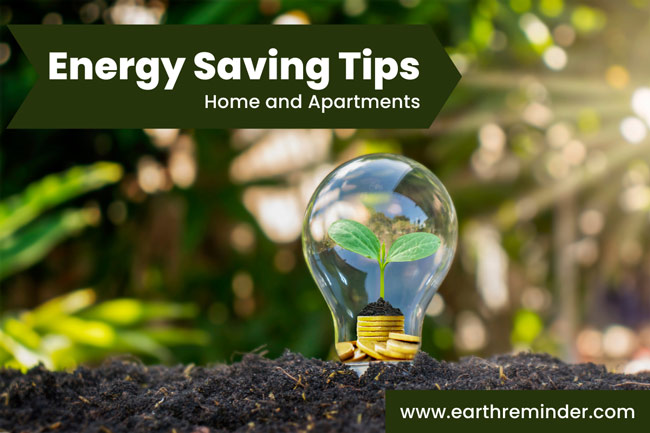 When it comes to energy efficiency, the most crucial factor is "awareness". Awareness acts as an influencer that motivates individuals to make efforts towards successful energy-saving.
Energy-saving practices can be incorporated into every aspect of our daily lives, whether it involves the use of electronics, lighting, cooking, or managing our homes or apartments. There are several changes that we can make to our daily lifestyle to contribute to energy saving. Now, you may wonder what these changes are. To find the answer to this question, you can refer to some useful energy saving tips.
Energy Saving Tips for Home and Apartments
Here we will discuss the ways in which you can save energy in your home or apartment:
Energy Saving Tips for Your Home: Electronics
You should switch off your television while having your meal. It is also the best time to spend with family together.
Do not put your television on standby mode; it takes just a few minutes to restart it. Even in standby mode, appliances use energy.
When your television has exceeded its expiration date, avoid prolonging its usage. Instead, opt to replace your outdated television with a new one to conserve electricity.
Do not keep your laptop or phone charger plugged in even after it has fully charged. Many chargers continue to consume electricity even after charging is complete.
Most of us have the habit of keeping our computers on, even when not in use. You should only use your computer when you have a task to perform, as it also helps in saving energy.
You may have seen people leaving their mobile phones plugged in overnight, which is a bad habit. Charge your mobile until you go to bed and simply unplug the charger before sleeping.
If your desktop is quite old, it is time to get a new one. You can give away your old desktop and purchase a new laptop.
Do not leave appliances like the microwave, dishwasher, washing machine, oven, etc., on standby mode when you are not using them. Make sure you unplug them after use.
Also Read: Earth Day Tips to Save The Earth.
Energy-Saving Tips for Lights and Lamps
Try to use natural light whenever possible. It is free of charge.
One of the most important changes to implement in your daily life for saving energy at home is to switch your light bulbs to LED.
Use outdoor lights only from sunset to sunrise. You can control this timing by setting a timer or alarm.
Make a habit of switching off the lights and lamps when they are not in use. It will also help you reduce your overall electricity bill.
When installing lights in your home or office, make sure there are separate switches to turn on/off each light instead of using one switch for multiple lights.
Using timers or sensors for outdoor as well as indoor lights is a very good approach to saving energy.
Become a part of the Earth Hour campaign to save more energy and help the environment.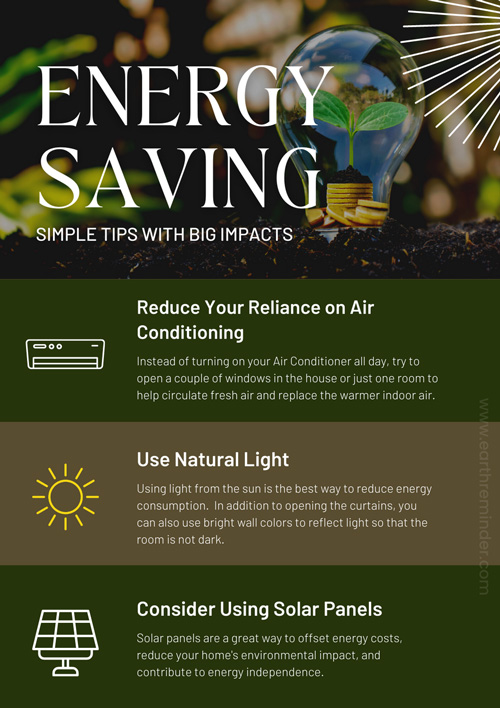 Energy-Saving Tips for the Home Kitchen
Looking into the oven while baking actually lowers the temperature by 25 degrees. In this situation, the oven uses more energy to regain its previous temperature.
Try to keep your refrigerators and freezers full, as they work more efficiently when full. However, overloading them will make them work harder to function properly.
The best option for using your refrigerator is to follow the manufacturer's instructions given in the booklet. It helps maintain proper cooling and avoids the wastage of energy.
Ensure that you shut the doors of the refrigerator or oven tightly for efficient operation of these appliances.
Do not fill your kettle or saucepan to the maximum level, as it requires more energy to boil a larger quantity of water.
Use the microwave for cooking instead of the stove.
The ventilation fan you use in your kitchen should be used only when needed, after which you should switch it off. If you keep the ventilation fan on for a long time, it will start replacing the inside air with the outside.
You can switch off your oven a few minutes before your cooking time is over because the inner heat helps cook without any extra consumption of electricity.
Always use a covered pan or, if possible, an electric kettle to boil water instead of an uncovered utensil. They boil water much faster and use less energy.
If you use the dishwasher at night, it keeps your house a bit cooler. It also decreases power line pressure during peak hours.
When using a dishwasher, make sure to wash a full load to save energy. Washing dishes with a half-load in the dishwasher will consume more energy.
Clean the filter of your dishwasher to function efficiently.
Also Read: How To Be More Environmentally Friendly?
Summer Energy Saving Tips
You can save up to 10% on heating and cooling costs in your home by sealing cracks, repairing leaks, adding insulation, and more.
You can reduce the load on your AC by closing the shades or curtains to keep your home cooler. In winter, you can open the shades to keep your home warm.
Instead of adjusting the thermostat to a lower temperature, use a ceiling fan.
Regularly service your AC to ensure efficient operation. Dirty air filters can reduce the cooling system's effectiveness.
When you're not at home, don't forget to switch off your AC.
Also Read: How To Protect the Environment in Daily Life?
Winter Energy Saving Tips
Once you're comfortable in bed, you can switch off the room heater.
A variety of programmable thermostats are available on the market. You can install a programmable thermostat for automatic functionality. It helps adjust the temperature automatically based on variable conditions.
A great way to save energy in winter is to invest in Electric Radiators that are available with WIFI. You just simply connect your WIFI and control each radiator individually through the app. This will save you time and money, but most importantly it's a great investment for every household. You can find a huge variety of electric radiators on bestelectricradiators.co.uk.
More Home Energy Efficient Tips
You need to get your heater serviced regularly to avoid inefficient functioning and energy waste.
Regularly clean or replace all filters to avoid energy wastage because dirty filters pressure your system to work harder compared to normal.
Adjust the thermostat of your home to the required temperature to save energy.
You can shorten your shower time. Since hot water is costly, minimizing your shower time helps save energy.
A common mistake that some people make is leaving the water running while brushing their teeth, shaving, washing hands, etc. We need to change this habit if we genuinely want to conserve water and save energy.
If possible, use cold water instead of hot water to wash your laundry, and hand dry it after washing. Most of the energy used by a washing machine goes into heating the water, which increases the electricity bill. Similarly, drying clothes in the washing machine also adds to the expenditure, which can be reduced by air drying.
Many people use power showers for bathing, which require high pressure to function. Power showers are not energy efficient, so, if possible, switch to a traditional method of taking a shower.
Spend some time playing outside with your kids so that they don't become too addicted to electronic games, such as video games. Outdoor games will also help your kids stay fit and healthy.
You can install free solar panels in your home. They help in energy efficiency and can reduce your electricity bill by up to one-third of its current amount.
Always take your machinery and equipment for regular maintenance to ensure proper functioning. Consider replacing old equipment or appliances that are not in good condition.
Dry your clothes using a clothesline or drying rack. Hang your clothes in the sunshine to save energy.
Conclusion
Energy-saving tips are a practical and effective way to reduce energy consumption and promote sustainability in homes and apartments. It's easy to lower your energy bills and minimize your environmental impact by adjusting your heating system, using energy-efficient appliances, and optimizing lighting and insulation. Our collective effort to prioritize energy conservation can contribute to a greener future and create a more sustainable living environment for future generations.
If you know more energy efficiency tips, please reply in the comment section, and we will add them.