Introduction: How Does Singapore Reduce Air Pollution?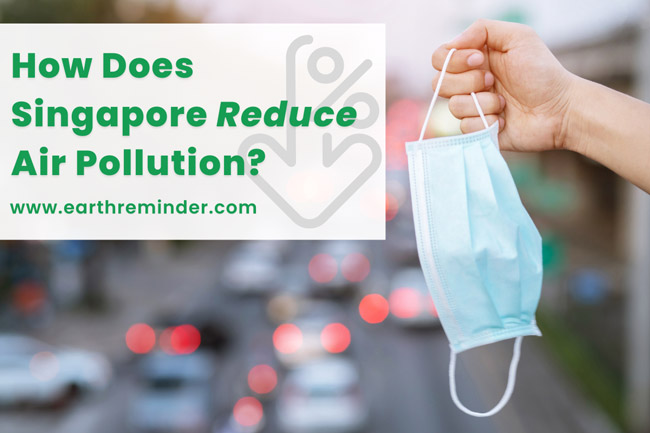 Singapore is an island republic off the coast of Malaysia which is home to 5.6 million people. It is the first Southeast Asian city to join the "BreatheLife Campaign" initiated by the World Health Organization(WHO). Since 2019, the country has remained in the 'Good' and 'Moderate' range according to the NEA reports.
The Singapore government has taken necessary measures for sustainable development to reduce air pollution. It includes managing the growth of the vehicle population and switching from fuel oil to natural gas to generate electricity. Singapore is one of the most densely populated countries in the world, one of the primary sources of air pollution is industries and motor vehicles.
To help ease air pollution and ensure good air quality despite the country's large industrial base and urban landscape, the government has introduced strict enforcement and legislation programs that help to monitor and minimize air pollution.
Since Covid-19 air quality has improved in Singapore due to the decrease in economic and transport activities. The government has announced tight control measures over automobile industries and land transportation, which remains one of the main contributors to air pollution in Singapore.
Air Pollution in Singapore Statistics
According to the National Environment Agency(NEA), in Singapore, 22 fixed air quality monitoring stations are located across 5 regions to monitor air quality. It gives hourly updates as per PSI(pollutant standards index) which is then published on NEA and haze websites.
The below Table will show 10 years of data on air quality. You can check Days With 'Good' And 'Moderate' Air Quality, Days With 'Unhealthy' Air Quality, and Days With 'Very Unhealthy' And 'Hazardous' Air Quality in percentages.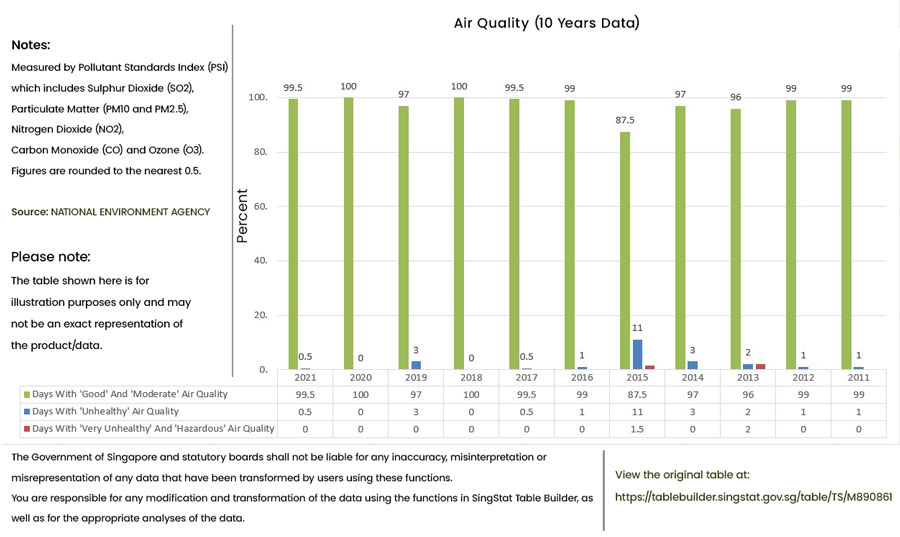 In 2015 air quality was 87.5%, and after that, it improved significantly. The air quality in 2021 was at a good PSI level of 99.5% of the year.
You can visit www.singstat.gov.sg for complete details.
According to NEA, Singapore's air quality is primarily benchmarked against WHO air quality guidelines. The air quality in Singapore is better than that of many Asian cities. The city-state strives to meet its air quality through certain approaches which include enforcement, regulations, incentives, education, and monitoring.
What Is Singapore Doing to Reduce Air Pollution?
The Singapore government was able to meet the WHO limits for nitrogen dioxide and carbon monoxide which limits particular matters like ozone and sulfur dioxide were exceeded as per the report said.
The reduction of industrial and shipping activities is likely to be one of the reasons for the reduction of air pollution in Singapore.
Do you know the majority of Singaporeans commute via public transport such as buses and trains? Only a few commutes via their vehicles. As we know, transportation is one of the main causes of air pollution.
Here are some of the policies and measures undertaken by the government to reduce air pollution;
Due to many environmental accomplishments by the government, the city has been named a well-deserved green city by international countries.
The government has planned to introduce cycling paths and the conversion of cars into electric ones.
They have also planned to construct more mass rapid transit technology which will ease efficiency and convenience for commuters.
Singapore has also replaced the Carbon emission-based vehicle scheme(CEVS) with vehicular emissions scheme to reduce air pollution.
Proper environmental planning, controlling emissions from industries, land transportation, etc.
Managing the climate action plan for sustainability and climate change.
The government employs modeling, research, monitoring, and analytical tools to assess air quality.
The government has introduced low-cost air quality sensors and used detection in industrial stacks to detect the black smoke coming from them.
By managing these measures, the government was able to encourage energy efficiency and support more green actions. Moreover, it has helped to improve current and future challenges faced by the city.
Air Emissions Regulations Singapore
The Singapore government regulates this act called the Environmental protection and Management Act and its subsidiary regulations to control air pollution. These acts stipulate emission standards for air pollutants.
Motor vehicles are the major sources of air pollution in Singapore. That's why the government has set exhaust emission and quality fuel standards for all vehicles to control the emissions.
The air pollution control regime relies on prohibiting activities rather than a system of permits. Here are some of the regulations given by the Singapore government to reduce air pollution.
One must not allow the emission of dark smoke from chimneys except under the prescribed limitations.
The use of open fires during trade premises or industrial ones is prohibited except for firefighting practices.
The use of any motor or road vehicle which emits smoke or vapor is prohibited. Imported, used, or new vehicles, have to obey the Euro VI emission standards.
The owner of an (ORDEs) off-road diesel engine, must comply with the rules and also send an emission test report if using the used one. A few examples of ORDEs are excavators, cranes, power generators, forklifts, etc.
There are no provisions required for the regulator to clean up or compensate for air pollution.
As part of its ongoing education and recognition program, the National Environment Agency (NEA) engages stakeholders regularly to remind their drivers to switch off their vehicles when parked, idle, or not in use.
The government has initiated more measures, which will help the city-state to have a greener environment. By promoting cleaner vehicles, and tax rebates for hybrid, CNG, and electric vehicles one can regulate air emissions.
The Singapore government has also announced penalties for the above regulations if anyone violates them.
Conclusion
The Singapore government follows this protocol of safeguarding, nurturing, and cherishing the environment. It uses a suite of policy interventions, instruments, and measures to manage air pollution. The government views good air quality as a non-negotiable necessity for the protection of land and public health.