Earth Day
Earth Day Wiki – How it Started, Themes, Its Importance & Facts
Earth Day is one of the biggest environmental movements celebrated across the world.
Earth Day wiki in detail:
Earth Day is celebrated to create awareness among people to solve various problems like climate changes and pollution, activate various environment movements and awareness programs, conserve natural resources, protect endangered species, and move towards a sustainable future.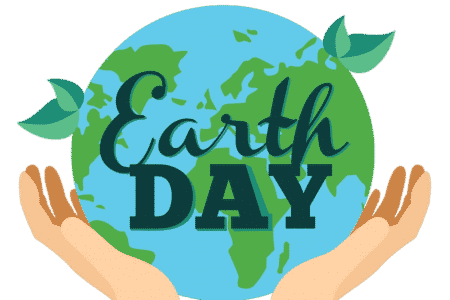 The top priority of the people behind celebrating this event is the protection of the environment. It is an annual event observed on 22nd April every year with a new theme.
People around the world come together to celebrate this environmental movement with great enthusiasm. Those who are searching for information on Earth Day, can get it here on this article, i.e. Earth day wiki.
Read some interesting facts about Earth day in this article and take positive action to support and protect Earth.
How did Earth Day Start?
Earth Day was founded by Gaylord Nelson, who was then a US senator. The idea to celebrate a National Day in the form of Earth Day was propounded after a historical event of the enormous oil spill at Santa Barbara, California, in the year 1969 took place that caused huge devastation. Students started an anti-war movement in the country.
Nelson got inspired by the student movement and got an idea to use the power of the student movement to spread awareness of environmental protection in the world.
To promote the idea across the nation, a team of 52 people was formed, and 22nd April was selected as the date to start the environmental movement.
On 22nd April 1970, the first Earth Day was observed when around 20 million Americans took streets, parks, auditoriums, and other public places to demonstrate support for a sustainable environment and a better Earth.
Supporters of the Democratic and Republic parties supported this demonstration along with people from every group and class of society.
With time in the year, 1990 Earth Day went global, and as we can see, it is now celebrated as a worldwide event for the protection of the earth.
Earth Day Themes
Every earth day is marked with a specific theme each year. Have a look at Earth day themes of previous years-
Earth Day 2007 – "Be kind to the earth – starting from saving resources"
Earth Day 2008 – "Trees Please"
Theme of 2009 – "How Do You Get Around"
Earth Day 2010 – "Reduce"
Earth Day 2011 – "Clear the Air"
Theme of 2012 – "Mobilize the Earth"
Earth Day 2013 – "The Face of Climate Change"
Earth Day 2014 – "Green Cities"
Theme of 2015 – "Water Wonderful World" and "Clean Earth – Green Earth"
Earth Day 2016 – "Trees for the Earth"
Earth Day 2017 – "Environmental and Climate Literacy"
Theme of 2018 – "End Plastic Pollution"
Earth Day 2019 –

"Protect Our Species"

Earth Day 2020 – "Climate Action"
Theme of Earth Day 2021 – "Restore Our Earth"
Earth Day 2022 theme – "Invest In Our Planet"
Earth Day 2023 theme – "Invest In Our Planet"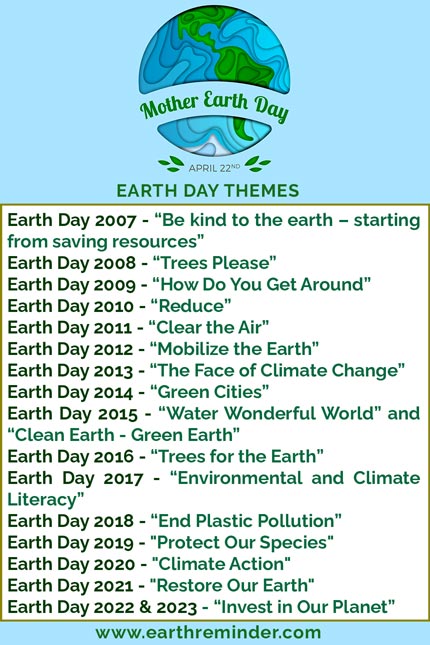 Earth Day's theme for 2019 was to save and protect all the species on this planet. With increasing pollution and climatic changes, several species of plants and animals have become endangered.
All the species of plants, animals, and marine life are equally necessary for maintaining a healthy ecological balance on Earth.
Mother Earth is under massive environmental crises, and strict action needs to be taken to conserve all the species living in it.
Keeping all earth day themes in mind, humans need to stop wildlife crime and should protect all the species for the better health of this planet.
There are number of activities like fishing, hunting, poaching, deforestation, urbanization, industrialization, plastic pollution, use of chemicals, oil spills etc. which are responsible for the extinction of several species.
Humans should not forget that all the species on this planet are equally important for maintaining balance in the ecosystem.
Earth has given a lot to us, and therefore we need to appreciate it. In the year 2020, all focus was to fight climate change and increasing global warming.
Earth Day Facts
Have a look at some Earth Day wiki facts shared below-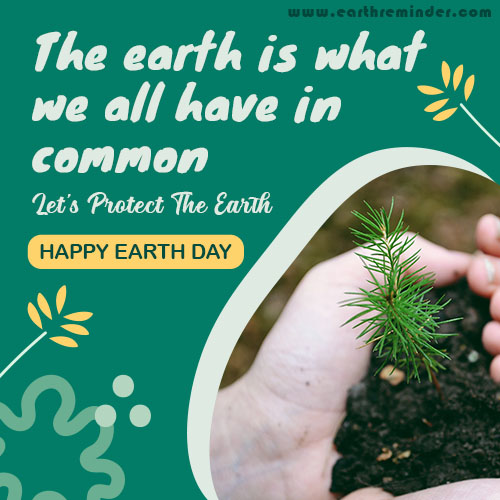 It was initially started in the United States of America and went global in 1990 and the internet was one of the biggest tools behind making it a global event.
Earth day is now celebrated across 193 countries of the world.
All the Earth Day events across the world are managed and coordinated by Earth Day Network.
More than 2 million people die prematurely around the world due to air pollution (indoor air pollution and outdoor).
Around 3.1 million jobs are generated just by recycling, reuse, and manufacturing in the US.
The population of birds has declined by 75% in the last 30 years.
50% of the world's tropical and temperate forests did not exist now. This has affected the lives of the inhabitants badly.
As per the Researchers predictions – all corals will be endangered by 2050 and that 75 percent will face very high danger levels.
One in every four mammals that exist on this planet is at the risk of extinction.
Year 2020 was the 50th anniversary of Earth Day.
Earth Day Flag was created by Ron Cob who was a cartoonist.
Earth Day Anthem is composed by Abhay Kumar from India.
Importance of Earth Day
Earth Day is of great importance. It is because day by day, the earth's condition is getting worse, and it is a day that reminds us to work for the protection of this planet.
It is the day that inspires millions of people to do something positive to make the earth a better place to live. Earth day is celebrated to honor Mother Earth, and therefore it should be appreciated.
Earth Day 2020 Wiki
Earth Day 2020 was celebrated on Monday, 22nd April 2020 as every year. The theme of Earth Day 2019 was the protection of all the species. In 2020, it was based on "climate action".
The 2019 Earth day focused on reminding humans about the duty to protect species of various plants, animals, birds, and other living organisms. In 2020, it was purely based on climate change and how to tackle this problem worldwide.
Earth Day 2020 was based on "climate action": This was the 50th anniversary of the Earth Day event. Unfortunately, we could not organize events and activities physically due to COVID-19.
Due to this pandemic lock-down situation across the world, Earth Day 2020 went entirely digital for the first time in the entire history of the planet's largest civic event.
Earth Day 2021 Wiki

Earth Day 2021 was on 22nd April (Thursday), 2021. The theme for Earth Day 2021 was "Restore Our Earth".
EDN, i.e. Earth Day Network had announced the theme for 2021 after consultation with members of the world's largest network in 192 countries.
Restoration is a crucial ingredient to heal the environment, especially at this time of COVID-19. The president of Earth Day Network said: "while the exact source of COVID-19 continues to be debated, the scientists are stating that unless we take better care of our planet, we risk even more deadly viruses that may damage our community".

Many events are organized in different parts of the planet to celebrate this day every year and were organized in 2021 also. Earth Day 2021 included many events, such as:
Volunteering to improve the environment

Artists for the Earth

Awareness and education spread

Street rallies, marches, etc.
Earth Day 2022
Earth Day 2022 was held on Fri, April 22, 2022. People all over the world had prepared for the global event. You can check everything about latest earth day event here.
Earth Day 2023 Wiki
This year earth day 2023 will follow the same theme like previous year i.e. "Invest In Our Planet". All of us need to do our part to protect our planet. Every person has a role to play in preserving the earth for future generations. Changing your lifestyle to be eco-friendly is the most effective way to show your support for our planet. Every little bit counts!
How to Celebrate Earth Day?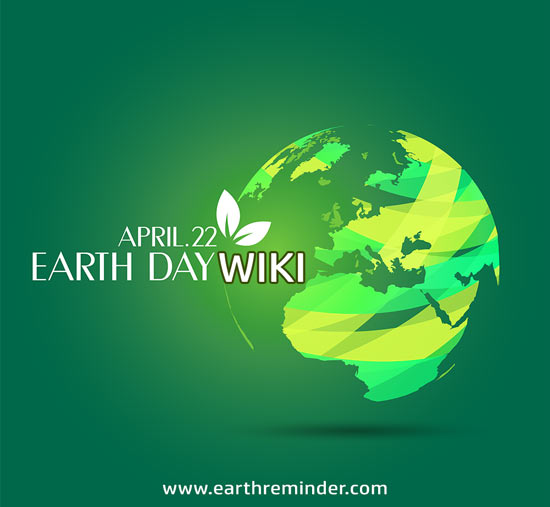 Earth Day can be celebrated in different ways. There are no particular ways to celebrate earth day. Various activities are performed in support of the earth on this day.
It is not necessary that you need to do something big to show your support in this environmental movement. You can contribute and start just by planting a tree or just by switching off the light bulb when not required.
The different ways of celebrating Earth Day include:
Learning about Earth and about ways to protect it.
Spreading awareness and encouraging people about environment protection.
Attending Earth day events like rallies, demonstration, earth day fair, seminars, etc.
Planting trees at house, locality and other areas.
Making a commitment to reduce the use and wastage of electricity, water, and other natural resources.
Organizing Cleanliness drive in localities, community, beaches and other places wherever it is needed.
Going Organic.
Using Eco-friendly products.
Performing Recycling activities.
Eating Eco-friendly food and food from the local.
Lastly, we all should not forget that every day is Earth Day, and we should work to improve health. A little initiative towards the protection and betterment of Earth can help in creating a sustainable future. If you like to add more points on the earth day wiki, reply below in the comment box.