Earth day is one of the biggest events observed on 22nd April every year. Earth Day activities are important not on earth day but throughout the year. It was started as a protest against the activities that were devastating for the earth. Now it has public support and billions of people gather every year to celebrate this auspicious day. But it is not just about celebrating for one day.
Earth Day Activities
The teaching lessons, and activities for the conservation of earth and resources should not be restricted to one day only. We need to celebrate every day as an earth day. Then only we can make a change and protect the earth.
Earth day activities are fun and are beneficial for everyone's future. Such Earth Day activities are for the betterment of the earth and ultimately for all of us. It is not just about performing activities for the sake of celebrating these international events.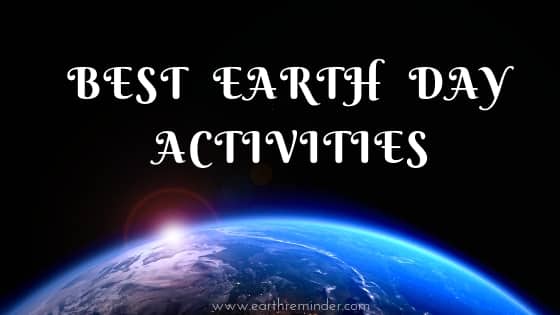 Earth day activities must be meaningful and everybody should learn something from them so that they can execute that in their life.
You can contribute to the betterment of earth by spreading awareness among students, kids and all the people around you.
An Earth day activity is the best way to celebrate this event and also plays a great role in spreading awareness. Earth activities help to generate a sense of belongingness among people for the earth.
Here we have compiled a giant list of best earth day activities to perform in schools, for students, kids, and adults.
Have a look and try to execute some-
Earth Day Activities for Schools
Students are our future and it is important to teach them the significance of being responsible towards the earth. If you want to help the earth and make a difference then spreading awareness among students is one of the best things you can do on earth day.
You need to teach them why we should protect this planet and what can be the consequences of exploiting and polluting this beautiful planet.
There are several eco-friendly activities by which you can teach students about this planet. Engaging your students in the classroom and outdoor earth day activities can be a step towards building a sustainable future.
Check out some of the best earth day activities for the school that you can practice with your students on this earth day-
Essay writing competition
Let students share their thoughts about this planet through a writing competition. Through this activity, you can know the understanding of students towards different aspects of the environment. Through this, you can help in developing a sense of responsibility for the earth in them.
Tree planting is a very common earth day activity but a very meaningful activity that has great results.  Encourage students to plant a tree in their school garden and also at their houses. Planting a single tree helps to increase the life of the earth.
Visiting a science center or museum
Get out of the classroom and take students on a tour of a local museum, science centers, botanical gardens, zoo, aquariums, etc. This helps them understand the rich biodiversity and impact of human activities on them.
Make sure that there is a proper engagement of each and every student.
If you are not able to take them for science tours take them to a virtual tour to desserts, forests, oceans, mountains, etc. This will help them to understand the biodiversity that exists on this earth. Teach them the importance of every species on this earth.
Form Green Groups and Committee
Form green groups of students and inspire them to organize and participate in activities for protecting earth like recycling projects in school, plating school garden, pollution control, water conservation, waste management in school and nearby localities, etc.
This activity is not just meant only for earth day. Every school should have this kind of green committee and faculties and parents should also be a part of this.
Science experiments are the best way to give real-world experience to your students at the school. Pick different classroom topics related to the environment and encourage students to learn and find a relation between the experiment and earth. The experiment makes learning fun and easy.
Inspire your students to take an initiative to help our earth. A school is a place where you can make thousands of environmentalists with proper teaching tools and encouragement. These earth day activities will definitely generate a sense of responsibility in them towards mother earth.
Earth Day Activities for Kids
Have kids at home and want them to learn the real significance of earth day?
Then some earth day activities will be perfect for you. Inspire kids to take action for protecting mother earth with the help of eco-friendly activities.
Check out some earth day activities for kids and we are sure these will definitely turn out to be meaningful activities-
Trees are a lifesaver and a source of fresh air, food, home to half of the world living beings, the source of energy and many more things. Through this activity teach your kids about the vital role that trees play in protecting this earth.
Encourage kids to keep the environment clean so that they can enjoy the fresh and clean surroundings. Organize a cleaning drive to clean nearby localities, beaches, river shores, and teach them the importance of keeping the surroundings clean.
Recycle, Reduce and Reuse activity
With this activity let your kids understand the need for recycling, reduce and reusing the waste to save this planet from turning into a garbage bin.
This game is not a regular game but a game with the objective of teaching kids the importance of preserving the endangered species on this earth. Do some research and enjoy this learning game with your kids.
Paper plate earth day craft
Crafting with the waste material is another way of celebrating Earth day and giving honor to earth. Through this kids can understand the need for reusing and can show support for the protection of this environment.
Here is another crafting activity for your kids. Try to use some waste colorful paper for making this craft and save paper.
Watch Movies, documentaries, videos
Watching movies, documentaries, videos and reading books based on environment and earth is one of the best activities to teach your kids about the impact that human activities have on the environment.
Educate and spread awareness among kids with these earth day activities. Let their little hands contribute towards shaping a bright future of the earth.
Earth Day activities for Adults
Adults are the ones who have a maximum contribution in polluting the earth and exploiting it. Take a moment to appreciate and honour the earth by performing these activities.
Have a look at some Earth day activities for adults and try to execute these.
Turn your backyard into an organic garden. Plant some trees and seasonal vegetables and help the environment by using that space. Plant a garden and go green and organic.
It is a beautiful way to recycle household waste and protect our environment.
With the help of waste plastic bags, clothes you can make these comfortable and cozy snuffle mats for your pets.
Make this beautiful rainbow with waste bottle caps. Take crafting to another level with this recycled craft activity. Take some Bottle; caps, colour them and arrange them on a board in the shape of the rainbow as shown in the picture.
Recycled crafting activities are fun and also help you to contribute to reducing waste by recycling it.
Start a cleaning drive along with your family and clean up all the mess around your neighbourhood and locality. Also spread awareness with the Moto of "Clean Earth, Green Earth".
Bring home a solar device
The use of renewable energy like solar energy can reduce the usage of a conventional source of energy. This Earth Day, install a solar panel, solar water heater, solar oven, etc and save your electricity bill and earth energy.
Volunteer for an Earth day event
Volunteer in an earth day event and serve the noble cause. There are lots of NGOs and other organizations that are seriously working on protecting this planet. Take some time and support such organizations by participating in them or by doing some sort of charity.
Compost is the best way to keep your biodegradable waste away from going into the landfills. Put all the organic waste of house into a compost. This waste then turns into a natural fertilizer that you can use in your garden.
A proper water treatment plant
The water treatment plant will help in proper utilization of water by removing the impurities and making it safe to drink for anyone. Try to make it in your home and locality.
Act, encourage, inspire, engage and take a step ahead to save the earth. Any activity that leads to the betterment of the environment never goes waste. It will help nature in one way or another.
Earth Day reminds us of our responsibilities towards the environment. However, it is not mandatory to go out to participate in Earth day activities rather you can be a part of this event staying at home.
Here are some ideas for Earth Day Activities at Home for Kids and Parents –
Turn off the electronic equipment like lights, TVs, etc. when you are not using it.
If possible avoid using lights during day time instead try to use natural energy resources.
Use energy-efficient products to save energy.
Make a habit of turning off the water taps while brushing your teeth and also after washing your hands.
Reuse the items to minimize waste disposal.
Recycle items such as paper, plastic, cardboard, etc.
Prefer to use fans instead of using AC to reduce carbon emission.
Sharing is caring! You can share those items that you are not going to use further. It will help to reduce unwanted waste accumulation.
Try to minimize the use of cell phones to reduce radiation effects.
You can watch short films inspiring environment conservation with your family or friends.
You can spend your valuable time staying at home to raise awareness about environmental protection. Use social media like Facebook, Twitter, Instagram to interact with people by sharing the knowledge about Earth day.
If you like these earth day activities, share it with your kids, friends, and on social media.