Environment
Natural Resources
3 R's of Environment – Reduce, Reuse, Recycle | Waste Management
All 3Rs of the environment along with 5R's of conservation and 7R's of sustainability.
3 Rs of Environment – Reduce, Reuse and Recycle

3 R's of environment i.e., Reduce, Reuse, and Recycle, are essential parts of Waste Hierarchy. 3 R's works together to reduce the waste generated and for the improvement of the waste management process. In short, we can call three R's as "The principle of the waste management process."
Reduce, Reuse, and Recycle helps in reducing the amount of carbon-di-oxide in the atmosphere and save the environment. You can also be a part of this mission just by making a few changes in your daily lifestyle. Everyone's contribution is needed to breathe healthily and live healthily. Let's understand the 3 R's of the environment in detail.
Reduce – The First "R" of Waste Hierarchy
The first R in the waste hierarchy is "Reduce." The crucial thing in the waste management procedure is to maintain a perfect balance in consumption and recycle & reuse. If the consumption is less, the rate of recycling or reuse will also be less.
You need to set the limits where you can reduce the chances of generating waste. However, there are some useful tips given below that will help you to reduce the amount of waste.
It would help if you used cloth napkins instead of using paper tissues because cloth napkins can be reused after wash, but paper napkins will only increase the amount of waste.
One of the very common wastages we make is "wastage of paper while printing." You should print on both sides of a paper to minimize the wastage of paper.
Most of the time, people get attracted to "use & throw type of products," but these products do not run for a long time and eventually increases the amount of waste. Hence you should choose the products with a long life.
Disposables like plates, cups, spoon, etc. are quite common in use these days. The reasons people prefer to use disposables are to minimize the workload, but unfortunately, this leads to a considerable amount of waste accumulations.
You can switch to electronic mails instead of sending letters via papers.
Many products come in various layers of packaging while purchase; you can avoid purchasing those products. These layers of packing ultimately increase the count of waste only.
Reuse – The Second "R" of Waste Hierarchy
If you have a bag full of old things that are not in use, then you can find out a way to reuse these thrown away things. The reuse of old stuff can reduce waste and does not affect the waste hierarchy. If you do not have any use of any of these thrown away items, then you can also donate it to someone who needs it.
The primary purpose of reusing old things is to minimize the amount of waste, whether you do it on your own through modifications or you donate it to someone needy. You're thrown away item can be someone else's take home. There are few tips mentioned below that can help you in reusing the old things.
Most of the time, people have thrown away old jars that can be used to store various items in the kitchen. You can also use old jars to store other items such as computer wires, hairpins, accessories, etc.
You can use old newspapers to pack old items to store. You can also use newspapers to wrap things when you are moving from one place to another.
The old tires can be best used as a swing, which is one of the favorite time-pass for kids.
If you have any leftover old wood, you can use it for bonfire or firewood at home during winter.
Your old clothes which are not in use now and you are planning to dump them; you can donate these clothes to poor people just for charity purpose.
You can donate your old books & notebooks to poor kids so that they can also study to fulfill their dreams.
Recycle – The Third "R" of Waste Hierarchy
Recycling is the third stage of the waste management process. Recycling is a process in which the dumping items are transformed into a new item. You can also send your unused items to recycling centers. It is vital that you are well aware of the things that can be recycled.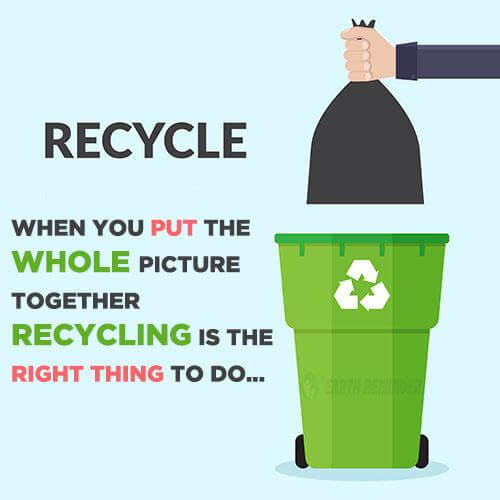 Choosing the correct item is the very first step in the process of recycling. You can go through the below-mentioned points to get an idea about the recycling items.
Try to buy an eco-friendly product from the market that is composed of recyclable material. The leftover material can be easily recycled after its usage.
As and when possible, try to choose non-toxic material or products so that it can be recycled without any hazardous effects.
You can also buy those items from the market which are made up of recycled material.
You can also invent different ways from your end to recycling various items and products.
Apart from these 3 R's of the environment "Reduce, Reuse and Recycle" we studied above, there are some other important types of R's also present such as 5Rs of conservation and 7Rs of sustainability.
5 R's of Conservation
Refuse
You should refuse to purchase those products that can affect you or your environment. Refuse to buy chemical-based products such as solvents instead choose water-based solutions.
Reduce
You need to learn to reduce to generate less waste. You should not only reduce the consumption of products but also should reduce the amount of energy, electricity, water, etc. to save for future generations.
Reuse
As we discussed above also, find out other ways to reuse old things you already dumped. The best way for this is to choose durable items instead of single-use items. Learn how you can reuse old material or items such as containers, cartons, jars, pallets, etc.
Repurpose
For repurpose, you need to be quite creative in terms of craftiness so that you can modify the things you have thrown away. For example- repurpose you're thrown away 'metal can' for planting beautiful plants, repurpose wood crates to change it into creative shelves, repurpose shaving material for cleaning, etc.
Recycle
The recycle process we also discussed above. If you are unable to follow the 4 R's of conservation discussed above, then you can go for the recycling process. You can opt to recycle as much as you can for various items such as papers, plastic, stained fabrics, waste electronics, metals, etc.
7 R's of Sustainability – For a Sustainable Life
Repair
Most of the time, we think that getting a new product is much easier than fixing the damaged one, but the reality is something else. Let's take the example of clothing. The manufacturing of new clothing has enormous impacts on the environment and even on the people involved in the making.
Remake
If you are finding out a different way of using old things other than reuse and recycling, the remake is one of the best options available for you. A remake is a process in which a low-value product transforms into a completely new one and sometimes even of higher value.
Refuse
Refusing unwanted items such as disposables, plastic bags, single-use items, etc. not only clean your surroundings but also save the environment. Everyone has to take responsibility of their role towards the environment to save our planet. We can make it just by saying, "No to unnecessary items & products."
Remember
Remember- it is one of the critical R of sustainable life. We have studied a lot about what to do and what not to do to save the environment, but generally, we don't remember those things. Till now, many of us have come to know that we should refuse unnecessary items to stop creating waste, but do we care for it while shopping? Hence, remember what all you know and you can to save our planet.
Respect
You must have heard people saying that "if you respect others, you will get respect in return." So, we also should respect our planet, which has given many gifts in the form of natural resources, water, soil, etc. We need to respect all this and behave like a responsible person to conserve all these treasures that we got from Earth.
Restore
We need to work together and restore everything that has been damaged due to various reasons such as deforestation, pollution, global warming, etc. We can follow the principles of "go green" and "peaceful future" to work as a helping hand to save the Earth.
Importance of 3 R's of Environment – Reduce, Reuse, Recycle of Waste Hierarchy
It is high time to practice 3 R of the environment. The 3R principle is fundamental to manage waste hierarchy. If we start with the first R of the environment "Reduce," it focuses on reducing the waste generated through various means, whether it is produced through buying groceries, food items, packaging, carpooling, or decluttering. We need to restrict the consumption of all this so that we get limited slots to recycle or reuse.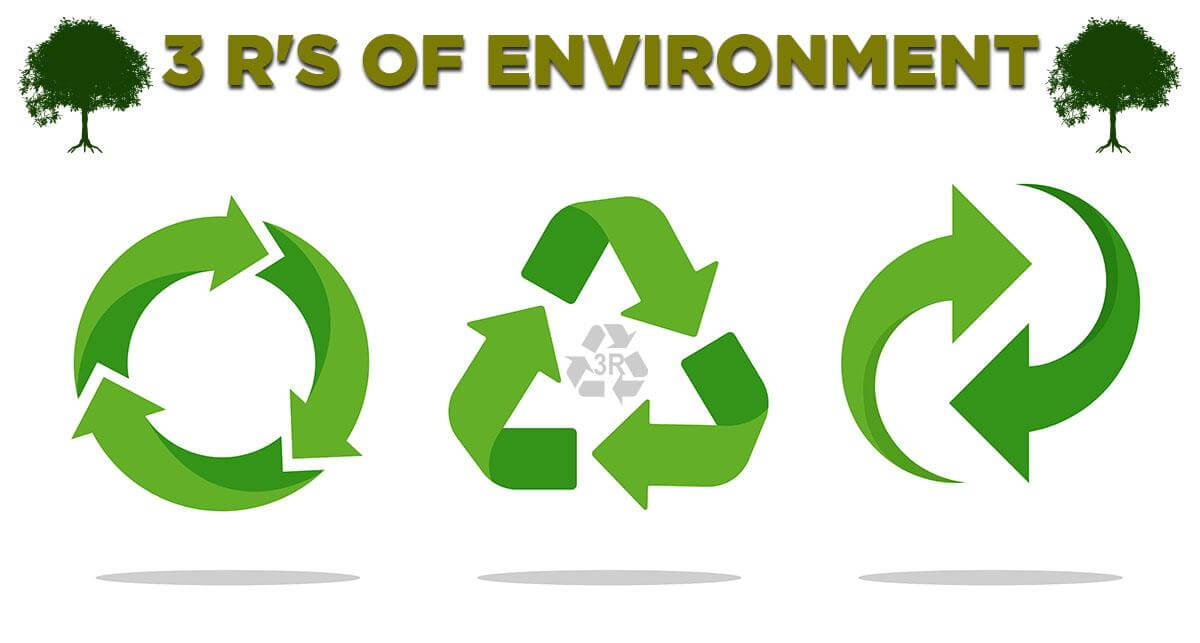 Now moving on to the next R of environment "Reuse," we should opt for reusable products. For example- use reusable cloth bags instead of plastic bags for shopping, use old pots to store things, making crafts from old items, etc.
As far as the third R of the environment "Recycle" is a concern, it is one of the crucial procedures of waste management. Recycling of waste material helps in reducing pollution levels to some extent. The electronic waste, car parts, batteries, etc. takes many years to decompose, and these are also hazardous items for the environment. Hence, we should send this kind of wastes to recycling centers to save the environment.
What is the Role of 3 R's- Reduce, Reuse, Recycle to Save the Environment?
People have become quite aware of saving the environment due to various reasons such as pollution, deforestation, global warming, greenhouse effects, etc. We have started relating everything to the environment i.e., advantages & disadvantages on the environment, and so is the case with 3 Rs. Dumping waste is polluting the environment directly or indirectly. To tackle this situation, 3 R's (Reduce, Reuse, and Recycle) has been introduced to manage the waste hierarchy. 3 R's is playing an important role to save the environment such as-
3 R's is reducing the amount of waste dumping in the environment.
People are contributing to 3 R's waste management process by purchasing durable products to avoid the waste entering into landfills.
Reducing also helps in the conservation of natural resources and causing minimal pollution.
Reusing also helps in the waste management process in different ways, such as reusing old items after repairing or modifications, donating old items to needy people, searching another way of using dumped items, etc.
Recycling helps to transform a thrown away item into a new one. There are various recycle centers opened for example in India in different cities to take the necessary steps in saving the environment.
If you have any more ideas do comment in the comment box and share it with your friends and family.