Environment
Social Issues
How to Conduct Environmental Awareness Campaigns?
Applying Learnings of the Environmental Awareness Campaign
Environmental awareness campaigns refer to organizing and educating the general public about the importance of understanding our environment's vulnerability and protecting it.
Promoting environmental awareness is an effective way to become an environmentalist and create a better tomorrow for our children.
What Is Environmental Awareness?
To understand environmental awareness, let's have a look at what the environmentalist movement means-
Environmentalism is an ideology that places the need and responsibility of humans to respect, protect and defend the natural world from the damages caused by the previous and current generation of humans.
Environmental awareness is an essential component for the movement to become a success.
By teaching our friends and family that the physical environment is indispensable. By taking the utmost care, we can solve the problems that threaten it.
The only important thing to do with an environmental awareness campaign is to make people aware of the dangers of excessive consumption that we are doing than needed.
People need to better understand the threats to our planet to realize our environment's depth of concern… Therefore, there is awareness of issues such as environmental health, global warming, and sustainable development.
Why Is an Environmental Awareness Campaign Important?
There is no doubt that human activities have a great record in damaging the environment. The concentration of greenhouse gases has increased by a third since the Industrial Revolution shows our lack of concern towards the environment. Hence, we have to improve our environment and ensure that our behavior contributes to its sustainability.
The increase in greenhouse gas emissions has led to the greenhouse effect, which has led to global warming. These gases also cause water, air, and land pollution.
Pollution affects food quality, which leads to the ingestion of toxins. Poor air quality also poses severe risks to human health.
How Can We Conduct an Environmental Awareness Campaign?
Helping community groups and individuals to gain a basic understanding of the environment and related issues. Public awareness of the environment is required.
Educators and environmentalists have repeatedly pointed out that the solution to the environmental crisis must be deeply rooted in the education system at all levels to promote environmental awareness and understanding.
We can conduct an environmental awareness campaign which can help in-
Imparting basic knowledge about environmental issues and at the primary school level.
Creating real-life conditions of the environment at the secondary school level to understand the environmental problems.
Developing problem-solving skills about managing natural resources at the secondary school level.
Sustainable development and conservation of natural resources at the college and university level for experiments and solutions to environmental problems and issues.
Environmental Awareness Campaign Ideas:
Unplug the appliances:

 when not in use.

Promote organic food:

 for healthy and chemical-free food.

Ban plastic

 – prefer paper bags that can be recycled.

Promote 

renewable energy uses

 and their applications.

We should 

prefer more walking

 and driving less – to save fuel and energy.

Education for poor people

– Ultimately benefits the environment.

Promote animal's protection and care

 – They have equal rights like us to use earth's resources.

Afforestation and reforestation:

 Planting trees is the key to resolve every earth's problem.

Proper waste disposal campaign:

 It will reduce major kinds of pollution, i.e., air, water, land.

Stop wasting water

 – Use bucket wherever possible.

Participate and collaborate

 with other NGOs – Spread awareness as much as possible.
Environmental Awareness Through Adult Education:
The goal of adult education is to create collective action to address environmental issues.
New types of complex environmental issues need to be understood, so a new approach to adult education is needed.
The approach should be relevant in achieving established environmental goals. For effective adult education, activists need to liaise with support organizations.
They Can Do the Following:
Develop skills in the technical, social, and organizational aspects of environmental management in the village.
Reorient teachers and educators to make them aware of natural resource management.
Identify ways to maintain public interest in environmental issues and identify mechanisms for transferring knowledge and skills.
Raising public awareness for the environment presupposes a policy for environmental training. This approach should consist of covering various components.
The Policy Can Include:
Identify training objectives;
determining environmental training methods
adopt training programs tailored to local needs for environmental knowledge and skills;
identify best training practices; and
Funding training activities.
The participation of rural women in environmental campaign programs is required. They spend most of her life arranging the water, fodder, and fuel for the family and being actively involved in the sustainable use of public resources.
Therefore, their participation in decision making is important in context for creating a strong framework for environmental awareness programs, especially for natural resource management and development activities.
Where Can We Apply the Learnings of the Environmental Awareness Campaign?
These are more environmental awareness campaign ideas, which includes the following:
House and Home:
A great place to start is eco-friendly homes and building materials. In recent years, developed countries have become increasingly aware of harmful construction materials such as asbestos, lead-based paint, and lead pipes.
People can express their environmental awareness by using natural construction materials that are not harmful to the environment. Brick, stone, wood, copper, and other materials are the best choices.
Save Energy and Water:
Another way to express environmental awareness is to save energy:
By turning off the lights when not in use is the easiest way to save energy.
Some have installed solar panels and other types of alternative energy sources.
Solar energy is likely to become a mainstream and efficient source of energy in the future.
Water conservation works in conjunction with energy conservation. People should be careful not to waste water while brushing their teeth.
Water is a valuable natural resource that we often consider; This is a big step towards expressing nature awareness.
Purchases, Recycling, Surveillance:
Some people prefer to buy clothes and products that contain natural fibres/materials rather than synthetic materials.
Recycling is another big part of expressing environmental awareness. As a consumer, while buying a product, one shall give some emphasis on the materials used for productions to determine whether the product is environmentally sustainable or not.
How Environmental Awareness Education Benefits the World?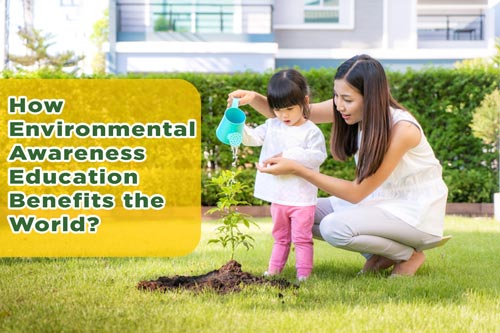 Promoting Healthy Education:
It allows students to take the lead in creating a green and healthy learning environment inside and outside school buildings.
Supports Sound Decision Making:
It ensures that citizens are knowledgeable and sound, and ready to make critical decisions to ensure that the world has sufficient natural resources that depend on our economy and enhanced living.
Contributes to Sustainability:
It helps in building knowledge and skills needed to solve complex environmental problems and take steps to keep our world healthy, our economy productive, and communities together.
Conserving Our Natural Resources:
A high level of environmental knowledge is associated with environmental friendliness and conservation behaviour.
Most people know more about recycling, achieving energy efficiency, and saving water than those who have just read about it.
Becoming an environmental lover also helps you express your concern properly to people around you.
Conclusion:
Tomorrow's leaders must be ready for tomorrow's challenges and adequately prepared for the future that our children will inherit.
As climate change is experienced worldwide, and its long-term catastrophic effects are coming into the picture, environmental education is key to better education.
Today, more and more children are being cut off from nature, we need to recognize the importance of real investment in environmental education.
Studies show that environmental education encourages students to learn and nurture environmental and natural resources.