Coral Triangle is the biggest reef system that covers almost 132,636 km area in the Western Pacific Ocean. This reef system passes through 6 countries- Indonesia, Malaysia, the Philippines, Papua New Guinea, Timor-Leste, and the Salomon Islands.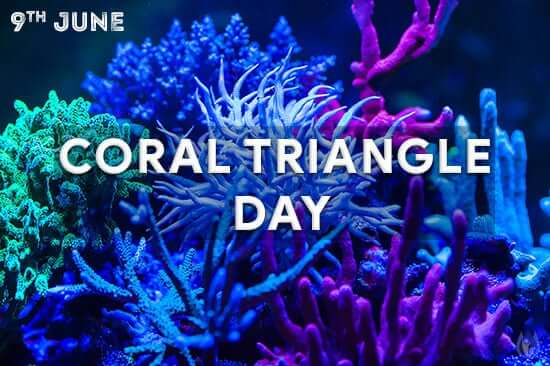 Coral Triangle holds just 1.5% of the total ocean area across the globe, but the world's 30% coral reefs are the contribution of this reef system. This place is known to have the highest coral diversity, approximately 76% of the world's coral species. This reef system is a home for a huge range of coral reef fishes in the world. 
This triangular-shaped coral reef area plays a vital role in marine diversity, but the unfortunate facts are that it is under threat. The coral triangle countries (CT6) came forward to work together for the protection and conservation of marine diversity at the coral triangle region, which is known as the epicenter of marine diversity.

The emergence of Coral Triangle Day
Coral Triangle Day was established by CTI-CFF (Coral Triangle Initiative on Coral Reefs, Fisheries, and Food Security) for the conservation of coral reefs diversity. CTI-CFF is a multilateral partnership of the six countries across the region, i.e., CT6 that works together to save marine resources, coastal areas, oceanic biodiversity, etc. from the adverse effects of environmental pollution.    
The day was celebrated on 9th June 2012 for the first time in conjunction with World Oceans Day. CTI-CFF observed this day to raise awareness about marine conservation, mainly focusing on the coral triangle region.  
Coral Triangle Day is celebrated every year in different locations of CT6 countries, highlighting the protection of coral reefs of this region. On this day, the individuals, organization, etc. contribute through various activities such as coastal clean-up tasks, planting mangrove trees, beach parties, fashion shows, contests, ocean film festivals, seafood exhibitions, etc.

Coral Triangle Day History
Marine pollution is affecting the biodiversity of oceans, including coral reefs. Coral Triangle, which is the main empire of the reef system, also has to pay for marine pollution. CT6 countries were observed Coral Triangle Day in 2012 to prevent the reefs of this region. 
It was a great initiative taken by CT6 countries to preserve the beautiful treasure of the Western Pacific Ocean. An outlook of the journey of CT Day has been given here in brief. 
CT Day 2012
It was the beginning of the celebration when WWF launched the day with its partners on 9th June 2012. The event was celebrated successfully under an overall banner of "Shared Waters, Shared Solutions."
The main objective of this event was to spotlight ocean conservation to rejuvenate the coral reefs of the Coral Triangle region. Many events were organized in Indonesia by various NGOs, dive operators, individuals, etc. to raise awareness about ocean conservation.
CT Day 2013
The 2nd CT Day was celebrated with the theme "Saving the Marine Ecosystem through the Marine Coastal Clean-up Program." More than 30000 people joined the celebrations of CT Day 2013 with a lot of enthusiasm.
More than 60 individual events were organized this year around the Asia-Pacific ocean region.
CT Day 2014
This year, in the Philippines, the celebration of Coral Triangle Day was planned with a celebrity chef Bobby Chinn; This was a sustainable seafood event assisted by the WWF Coral Triangle Program and WWF-Philippines together. Hamilo Coast was the place for this event. It was the 3rd year when Bobby Chinn has contributed with WWF on the CT Day celebration since its beginning.
Apart from this sustainable seafood event, WWF Coral Triangle Program also assisted other events such as two recorded events in Fiji and Timor Leste, respectively, three recorded events in the Solomon Islands, four recorded events in Malaysia, ten recorded events in the Philippines and 16 recorded events in Indonesia.
CT Day 2015
This year the event was planned to go viral with the support of WWF. The CT Day partners organized a social media activity to enhance the profile of the event and the conservation of the Coral Triangle.
This social media activity – "I Heart the Coral Triangle" was an Instagram completion. The motto of this competition was to encourage individuals to take photographs of natural elements that are arranged in heart shape. Then they can share these photographs on social media such as Instagram, Twitter, and Facebook with a hashtag #iheartcoraltriangle.
The photographs with maximum likes on social media were awarded as the winner of the competition. It was a successful event where many people participated in celebrating 4th CT Day.
CT Day 2016
The 5th Coral Triangle Day was celebrated under the theme "Save Coral Triangle: Stop Plastic Pollution." The objective of the theme was to raise awareness about the protection of the marine ecosystem from threats of plastic pollution.
CTI-CFF organized a social media campaign in coordination with WWF named "#noplace4plastic". This campaign was initiated to create a discussion to minimize plastic pollution waste for the protection of the coastal and marine ecosystems. A photo competition was also a part of this campaign.
CT Day 2017
The theme was "Curbing Marine Debris-Reduce Your Plastic Waste!". NNC Indonesia at Goethe Haus, Jakarta, was the place of celebrations for the event in 2017. The event was held in coordination with CTI-CFF supported by GIZ BMUB Sulu-Sulawesi Seascape Project, WWF Indonesia, RARE, and Change.org.
CT Day 2018
By 2018, plastic waste was observed as the primary source of marine pollution. It was high time when we need to reduce the use of plastics, especially single-use plastic. Single-use plastic was majorly getting accumulated not only in Coral Triangle but to the oceans worldwide.
In 2018, WWF and CTI-CFF planned to run a high profile Instagram contest to deal with single-use plastic waste problems throughout the Coral Triangle region. The Instagram campaign "#PLASTICRESISTANCE" aimed to invite people to join the event to encourage their family & friends to reduce single-use plastic.
CT Day 2019
As Indonesia is the center of the Coral Triangle region, hence the communities across Indonesia host the celebration of CT Day every year. In 2019, Indonesia celebrated the day on 19th June at Kusamaba Beach, Dawan, Klungkung, in East Bali. The event was held in collaboration with Coastal & Marine Resources Mgmt. Center Denpasar.
A beach clean-up activity was conducted where more than 300 individuals participated from local schools, local govt. & many other groups. These groups succeeded in collecting more than 250 kg. of trash that mostly came from household and fishing industry sources.
Coral Triangle Day 2020
Coral Triangle is known as the Amazon Rainforest of oceans as it is the most influential marine ecology of the world. In 2020, we are going to enter in the 9th edition of Coral Triangle Day. CT6 countries will come together with some innovative preventive measures to protect the coral reef systems of the region. 
Last year once again, CTI-CFF will conduct various events and activities to promote CT Day 2020. This event focuses not only to conserve the coral triangle region, but it also grabs the world's attention towards coral reefs protection across the globe.

World Coral Triangle Day 2021
Coral Triangle Centre (CTC) celebrates World Ocean Day on 8th June and World Coral Triangle Day on 9th June every year. This year CTC had conducted a 2-day online workshop after a five-day training for educators where they were sharing creative teaching methods on marine conservation. It was performed from May 22-28 in collaboration with Ludere Nusantara. Besides, they did an online collaborative musical performance on 11th June from 7.00 to 8.00 PM (Bali Time) as a live stream on YouTube. Further, CTC had conducted a two-day exclusive learning program where participants learned in-depth about coral biology, threats they are facing, and their restoration methods.
The Conservation and Environment Protection Authority (CEPA) conducted different events to celebrate world coral triangle day 2021. They hosted the coral triangle day event out of the Motupore island, where they clean up the beach and planted mangroves. They also performed coral and seaweed planting with the local community for the occasion. Several other initiatives are working to collaborate the epicentre of global marine resources through the Coral Sea Initiative. They celebrate this occasion to raise awareness about our marine biodiversity among the population.
Also, Coral Triangle Day 2021 was celebrated by Malaysia's Ministry of Environment and Water, Malaysia's National CTI-CFF Coordinating Committee, and Universiti Malaysia Sabah. They observed this occasion through a webinar called "Driving Blue Recovery for Sustainable Coral Triangle" at 2.00 – 3.00 PM (GMT + 8) on Zoom. Moreover, several organisations through Coral Triangle Initiative tried to support and protect our ocean biodiversity by getting involved in blue recovery activities.
How to Celebrate Coral Triangle Day?
Every individual effort will make a difference to protect the most important diversity of the marine ecosystem. You can follow these tips to contribute your valuable efforts to CT Day celebrations.

There are many events organized in the region to celebrate CT day every year. You can be a part of any of these events.

You can also promote these events in your known circle and ask them as well to join any event or activity.

Create your event, making a group, and lead this event to take part in Coral Triangle Day. For example- beach clean-ups, fundraising activity, recycling drives, etc.

To implement your ideas for marine and coral reefs protection, you can encourage organizations, establishments, etc. It will give you a bigger platform to implement your ideas about CT conservation. 

Awareness among people plays an essential role in helping them understand about any issue, such as environmental issues. Degradation of the Coral Triangle is also a big environmental issue that needs the world's attention. You can raise awareness among people to save the region.

Now a day, social media is an excellent platform to raise your voice against any issue. You can use this platform to make people aware of the causes, effects, and preventive measures of the downfall of the Coral Triangle region.     

You can visit schools to interact with the students. Explain to them the importance of coral reefs in an exciting way.

You can play some ocean and coral reefs related to clips or movies to make the students understand why the Coral Triangle needs protection.

Encourage people to stop using single-use plastic to minimize plastic waste debris in the region.

Encourage them to buy Eco-friendly products to save the environment. 
Every organism is important and plays a role in biodiversity. Similarly, coral reefs are an essential creature of the ocean. When it comes to Coral Triangle, we have a huge responsibility for the protection of this region. 
The coral reef system at Coral Triangle acts as the backbone of the world's total coral reefs. Hence, we need to stop polluting the triangle region to save coral reefs. Understand your responsibility and act accordingly to be an active participant.