Every year millions of people worldwide participate in a global event to raise awareness about climate change and saving energy. The event is known as Earth hour day. All who participated switched off lights in their homes and workplaces for one hour. Now, the Earth Hour 2022 event is here.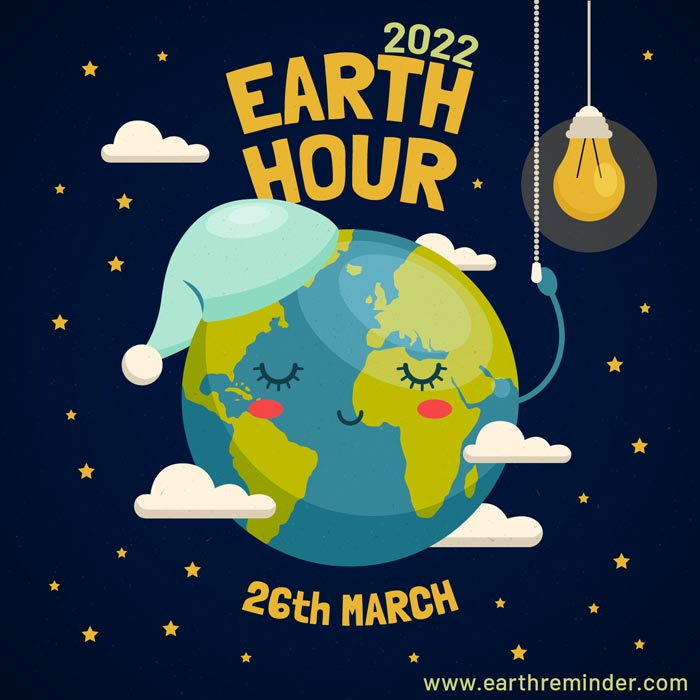 It was first started by the World Wide Fund for Nature in Sydney. It soon became a global movement, and millions now join in celebrating Earth Hour by turning off lights every year.
All Latest event updates are given below:
Earth Hour 2022 Date
Earth hour is observed on the last Saturday of March every year. For 2022, the date of Earth hour is Saturday, 26 March. Earth hour will begin at 8:30 pm local time and ends at 9:30 pm local time.
Earth Hour Brief History/Wiki
We live on a beautiful and unique planet. It's the only planet in the universe that supports life. But human activities are now putting our planet in danger. Changing climate has a very bad effect on our environment. The increasing concern gave rise to the idea of Earth hour. It was first proposed by WWF in Sydney in 2007.
The event involved the simple act of turning off lights for one hour. Around 2.2 million people and 2000 businesses participated in the first Earth Hour event.
In 2008, Earth hour was celebrated in 35 countries spanning 400 cities around the world. Important world monuments like Empire State (New York, USA), Golden Gate Bridge (San Francisco, USA), Sydney Opera House (Sydney, Australia), Roman Coliseum (Rome, Italy) also joined the campaign.
In 2011, the event was observed in more than 135 countries, and 5,250 cities participated in the event.
By 2018 a decade after the first Earth hour celebration, 187 different countries began participating in the campaign. More than 12,000 monuments turned off their lights showing support for Earth hour.
Earth hour 2020 was different from previous earth hour events. Because of the pandemic, the event was organized digitally. 190 countries participated in the event.
In the year 2021 too, the Earth hour was organized successfully. People worldwide supported the 2021 event, and 192 countries took part. Similar to 2020, the event was mostly digital, and people took part in online interactions, events, and talks.
Earth Hour 2022 Theme
Earth Hour 2022 will be organized with a specific objective in mind. The Earth Hour 2022 theme will focus on "Shape Our Future." An important year for everyone and our planet Earth. It is up to us to #ShapeOurFuture by bringing attention to the critical issues our planet is facing today.
You can check previous Earth Hour themes below:
Previous Years Earth Hour Day Themes
Theme 2021 – "Climate Change to Save Earth" – With the theme for Earth hour 2021, the message was – preventing climate change is the only way to save Earth.
Theme 2020 – "Climate Action and Sustainable Development" – In 2020, the focus of Earth hour theme was again on climate change and developing sustainably.
Earth Hour Theme 2019 – "Reduce, Reuse, Change the Way We Live" – Earth hour 2019 urged people to live in a way that supports the planet. Hence main focus was to self-improvement. Promoting recycling and reusing was the main focus of the theme.
Theme 2018 – "Biodiversity" – Earth hour 2018, "Biodiversity" theme put focus on nature. It urged people to think about what nature means to us and why it deserves protection.
Theme 2017 – "Our Choice for the Planet" – Earth hour 2017 focused on how our actions can have a far-reaching impact on the planet.
Earth Hour Theme 2016 – "Shine a Light on Climate Action" – Earth hour day 2016 focused on combined actions by millions will bring significant positive change.
Theme 2015 – "Change Climate Change" – In 2015 the Earth hour movement returned to its root. With "Change Climate Change," it again focused on climate change.
Theme 2014 – "Use Your Power to Make Change a Reality" – The 2014 Earth hour theme signified that each individual holds power to bring change. It encouraged people to take action and bring change.
Theme 2013 – "I Will if You Will" – The theme from the previous year (year 2012) continued. The aim was also the same – push people to be more aware of environmental protection.
Earth Hour Theme 2012 – "I Will if You Will" – Earth hour 2012, with its "I Will if You Will" theme, bring as many people as possible to support the campaign.
Theme 2011 – "Go Beyond the Hour" – In 2011 Earth hour encouraged people to follow energy-saving practices daily.
Theme 2010 – "The power of individual action for a sustainable future" – In 2010 Earth hour day theme focused on the importance of individual efforts for a sustainable future.
Earth Hour Theme 2009 – "Vote Earth" – With the Vote Earth theme, WWF aimed to include 1 billion people. It signifies their vote to take climate change seriously.
Theme 2008 – "We've Turned the Lights Out. Now it's Your Turn" – First earth hour encouraged people for a simple act – turn off the lights.
Earth Hour 2022 Events and Latest Updates
Earth Hour Event update 2:
To tackle the rising concern of plastic pollution in Uganda, WWF has launched the "Earth Hour campaign 2022." The theme of this campaign is "Re-think Plastics". The initiative aims to curb plastic pollution and to raise awareness amongst Ugandan citizens about the ill effects of plastic on human health as well as on the environment.
In India, a well-known hotel: The Imperial will organize a Nature Trail in association with WWF India on this Earth Day 2022. Apart from switching the lights off for an hour, the Imperial will also organize a trail for its guest to spend some time with nature.
In Australia, the "Uralla Lantern Parade" will be organized for the 6th time as a part of the Earth Hour celebration. The parade will be held on March 26, 2022, the day Earth hour is celebrated worldwide.
Earth hour Event Update 1: The Earth 2022 will be held on 26 March 2022. The event will happen before the United Nations conference for nature and biodiversity in Kunming, China.
It allows the Earth hour event to amass huge support and pressure world leaders to take firm action to protect biodiversity.
Moreover, the second 'Virtual Spotlight' event will also happen with the earth hour. Last year the event was a huge success. This year too, the event will draw the world's attention to global warming, nature, and biodiversity.
We will update more latest news soon. You can further visit official www.earthhour.org for latest 2022 news and events.
Watch virtual spotlight of previous year earth hour below:
Earth Hour Day Facts
Earth hour encourages people to save energy and use it wisely. It lasts for only one hour but urges people to practice energy-saving beyond Earth hour.
Monday to Friday are workdays in most countries. Therefore, Saturday was chosen to keep the disturbance caused by blackout to a minimum.
In 2013, the WWF branch in Uganda added Earth Hour Forest to the event. The aim was to prevent deforestation and protect trees.
The Earth hour logo includes the number 60 in it. The number signifies the 60 minutes of the Earth hour.
The Earth hour logo also includes a plus sign. It means that the Earth hour initiative extends beyond a single hour.
How To Celebrate Earth Hour 2022?
Want to celebrate Earth Hour event 2022? Here are some Earth Hour Day 2022 celebration ideas:
Safety first. Due to the ongoing pandemic, it's essential to follow all Covid19 related guidelines.
Organize recycling activities with kids at home; this will be very beneficial for them in the future.
At the heart of Earth hour is turning off lights. So, switch off the non-essential lights for an hour.
The darkness itself has its charm. Light a few candles and enjoy the ambiance over dinner.
You can officially participate in the 2022 event by visiting the earthhour.org website.
Gather family and friends and organize a scavenger hunt. Darkness will only add to the fun.
Enjoy storytelling? Gather the kids around and have a round of spooky storytelling in the dark.
More of an intellectual? Take part in the 'Virtual Spotlight Event.' Watch the video and share it on your social media pages.
It is a well-known fact that the number of people and countries joining the earth hour day event is increasing each year, which shows that there is a concern for our planet. On social media use hashtags for example,  #earthhourday2022 #connect2earth, etc. to raise awareness among people.
It is a small step toward protecting our planet by participating in Earth Hour Day 2022. An action today can change the future for the better. This idea appears to have a very bright future.